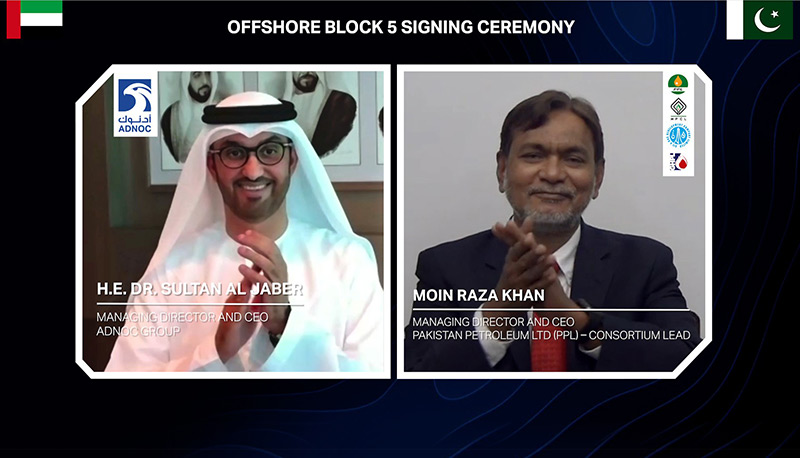 A Pakistani group of companies has won Offshore Block 5, offshore Abu Dhabi, under its second bid round.
Pakistani Petroleum Ltd (PPL) is the operator of the consortium. Oil and Gas Development Company Limited (OGDCL), Mari Petroleum Company Limited (MPCL) and Government Holdings (Private) Limited (GHPL) are also part of the wining group, Pakistan International Oil Ltd (PIOL).
The four companies have 25% stakes each. PIOL will invest $304.7 million in exploration on the area.
Offshore Block 5 covers 6,223 square km and is 100 km northeast of the Abu Dhabi city.
Adnoc disclosed that it would not award a licence on the onshore Block 2. Noting its discovery of substantial unconventional resources, some 22 billion barrels of oil, Adnoc said it plans instead to sign up partners specifically for this.
The block's resources have potential to rank alongside "the most prolific North American shale oil plays".
Going global
Pakistan Minister for Energy Hammad Azhar said the "award is a new beginning for both on the energy front. As Pakistan addresses escalating energy demand in the country, such milestones for energy co-operation will surely assist the country towards bridging the energy supply and demand gap."
PPL CEO Moin Raza Khan signed the agreement with the head of Adnoc, and Minister of Industry and Advanced Technology, Sultan Al Jaber.
Al Jaber said the agreement provided an opportunity to "support Pakistan's energy security and further strengthen the strategic and economic ties between our two countries".
The Adnoc official went on to say that the company was optimistic about prospects from the second bid round. It aims to "continue to accelerate the exploration and development of Abu Dhabi's untapped resources, in line with the Leadership's wise directives", he said.
PIOL will hold a 100% stake in the block during exploration. Should it make a commercial discovery, Adnoc will have an option to acquire a 60% stake during production.
DWF provided legal assistance and advice to the Pakistani group on Adnoc's requirements and documents.
DWF partner Umera Ali described the deal as a milestone. "It is the first time foreign companies have been allowed to incorporate a fully owned subsidiary to conduct upstream oil and gas work", Ali said.
Mass movement
Eni and Thailand's PTT Exploration and Production (PTTEP) won the first offshore block from Adnoc's second round. The two companies won Offshore Block 3.
Occidental Petroleum won onshore Block 5. Adnoc awarded Offshore Block 4 to Japan's Cosmo Energy Holdings.
Oxy said it would invest $140mn in exploration, while Cosmo will spend $145mn and Eni and PTTEP $412mn. The spending commitment from the Pakistan group brings the total to just over $1 billion.
As with Eni and PTTEP at Offshore Block 3, PIOL will contribute financially and technically to Adnoc's mega seismic survey. This is shooting 3D seismic on Offshore Block 5.
Recommended for you

UAE's Masdar buys into £11bn UK wind farm