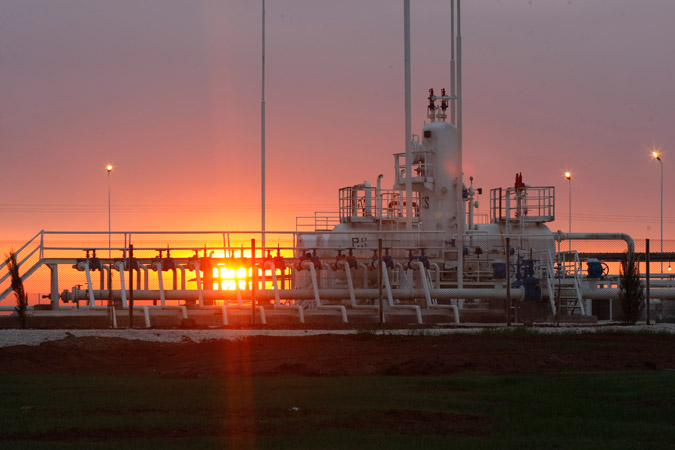 Sanctions in Syria have driven oil production underground, but one company has set out plans to tackle the problem.
Gulfsands Petroleum owns a 50% stake in Block 26, where its interests pre-date the war. While sanctions prevent the company from operating in the area, other entities do not face such restrictions.
Conflict shut the fields down and drove Gulfsands, and partner Sinochem, out, having declared force majeure. The companies have not returned but the fields began producing again in 2017.
Gulfsands CEO John Bell said various local groups – including the Autonomous Administration of North and East Syria (AANES), People's Defence Unit (YPG), Syrian Democratic Forces (SDF) and Syrian Democratic Council (SDC) – have taken operational control of the fields and are producing "illegally".
The company estimates Block 26 has been producing around 20,000 bpd since 2017. As a result, over this period, it has produced more than 41 million barrels of oil illicitly. At an average oil price of $70 per barrel, this has a potential value of around US$2.9 billion.
Who benefits
Illicit production in the broader northeast Syria region, including Block 26, is estimated to be 80,000 bpd, Bell said. "Sanctions have been in place for 12 years and local people are just not seeing the benefits," he said. "Despite sanctions, this illegal trade is allowed to continue and revenue is going to local militias."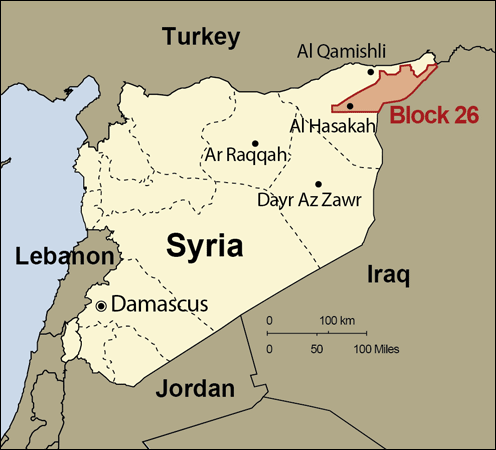 Bell said these militias are understood to be selling oil from northeast Syria both to Damascus as well as into Kurdistan.
"The biggest travesty is that there is little or no benefit going to the Syrian people as the oil is being sold at such a discount that only benefits illicit middlemen. Worryingly, this illegal production is also causing absolutely atrocious pollution to the land, air and rivers," he continued. "The environmental pollution is catastrophic," Bell said, citing research from local NGOs.
Some influential countries, he continued, including the US and UK, appear to be turning a "blind eye" to the problem, which encourages this illegal trade to continue.
Better way forward
Gulfsands has come up with a potential solution, which it calls "Project Hope". Current sanctions, and lack of political agreement, prevent the company and its peers from working in Syria's oil sector. Project Hope would turn this around, he said, allowing it to return to work while also solving many of the related problems.
Under the plan, Gulfsands and its peers could return to their blocks, with appropriate sanction and other approvals. Back with operational control, they could improve oilfield practice – reducing the impact on the environment – while also producing oil.
The companies would then sell oil transparently through accredited traders. They would pay revenues into an escrow account, or channel them towards internationally acceptable ends. Oil revenues could go to paying for humanitarian aid, for instance. This would reduce donor countries' aid bill and create a local link between production and benefits.
The World Food Programme (WFP) has reported that some 12 million people in Syria face food insecurity, while more than 6 million are internally displaced.
"The United Nations, or similar neutral party, would have to design and oversee it. We believe we have suggested something that makes sense and meets an urgent need," Bell said.
"This is not political," he continued. "We are trying to find an indigenous solution to a humanitarian crisis that has gone on for too long. It is about visibility and transparency, it is time for something to change. This is a solution that could generate billions of dollars of revenue per year – but currently it is being squandered."
New investments
Those currently producing the oil illicitly would lose out, but the broader Syrian population would gain. Further gains could also be realised through new investments.
Bell said the company's Block 26 could increase production, under Gulfsands' guidance, to 100,000 bpd. "For our oilfields, we know exactly what we would do. We've spent the last five or six years working on plans."
Regionally, Bell believes this could be replicated and take production to around 500,000 bpd. This could generate around US$15-20bn of revenue per annum, depending on the oil price.
Gulfsands has recently opened an office in Abu Dhabi to be closer to the regional dialogue regarding Syria, and is also working on plans to expand operations in the MENA region.
"There is a clear regional interest in resolving the crisis in Syria, which gives us some cause for optimism," Bell said.
Recommended for you

Sonatrach, OMV plan out Libya exploration return