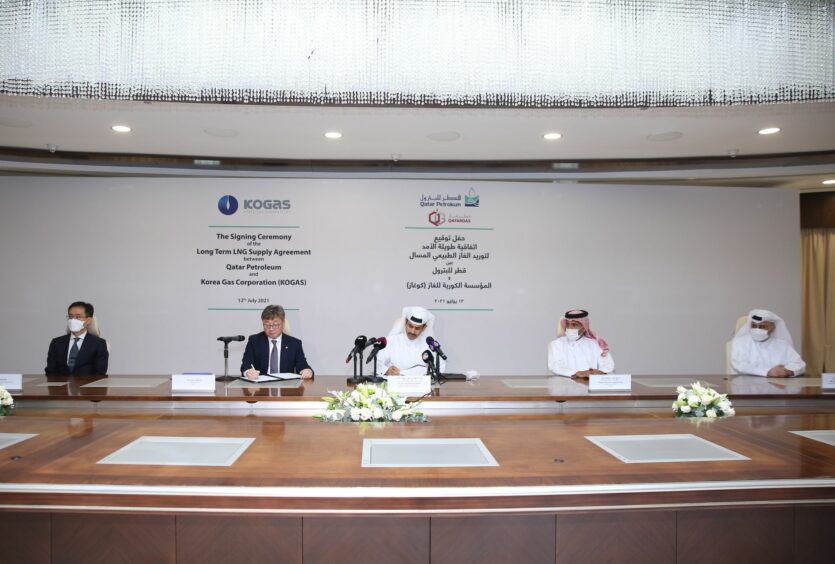 Qatar Petroleum (QP) has struck yet another LNG supply deal, agreeing to export 2 million tonnes per year to Korea Gas Corp. for 20 years.
Exports will begin in January 2025 and will be delivered to Kogas regasification terminals in Korea.
"We are both proud and delighted to continue to serve as a major LNG supplier to Kogas and Korea. Today's agreement is another step in the historic partnership journey between [QP] and Kogas, which we hope to take to new heights," said QP president and CEO Saad Sherida Al-Kaabi.
The QP official signed the agreement with Kogas president and CEO Hee-Bong Chae at a ceremony in Qatar.
Qatar is the largest supplier of LNG to Korea. It currently supplies Kogas with more than 9mn tpy of LNG through long-term agreements. Kogas signed its first LNG sales and purchasing agreement with Qatar almost 26 years ago.
QP signed a 15-year SPA with Taiwan's CPC Corp., for the supply of 1.25mn tpy, on July 7. These supplies will begin in January 2022.
This followed another agreement, under which the Qatari company agreed to provide 1mn tpy to China, via a 10-year deal with Shell. This deal also sees LNG supplies starting in January 2022.
The commitment brings Qatari LNG supplies to China to 12mn tpy.
BP, in its recently published Statistical Review of World Energy, reported South Korea's LNG imports at 55.3 billion cubic metres in 2020. China imported 94 bcm and Taiwan 24.7 bcm.
Recommended for you

Woodside teams up to drive hydrogen adoption in South Korea