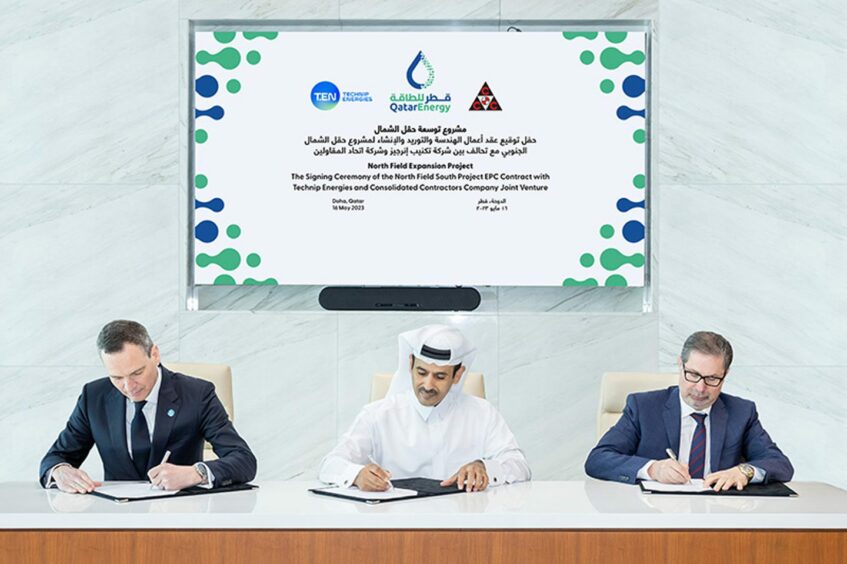 QatarEnergy (QE) awarded an engineering, procurement and construction (EPC) contract for two new major LNG trains to Technip Energies and Consolidated Contractors Co. (CCC).
QE reported the EPC contract was worth around $10 billion. Technip described the contract as major, which it defines as being worth more than 1bn euros ($1.09bn).
The work involves the construction of two trains, with 16 million tonnes per year of capacity, at the North Field South (NFS) project.
In addition to the trains, the EPC work also covers gas treatment facilities, NGL recovery, helium extraction and refining at Ras Laffan.
QE has a 75% stake in the NFS development. It has signed up TotalEnergies, Shell and ConocoPhillips for the other 25%.
QE president and CEO Saad Sherida Al-Kaabi, the Minister of State for Energy Affairs, signed the contract today. In attendance was Technip president Arnaud Pieton and CCC managing director in Qatar Oussama El Jerbi. Other executives attended, including Qatargas CEO Sheikh Khalid bin Khalifa Al Thani.
Al-Kaabi said the contract award was "yet another significant milestone in the world's largest LNG project, reinforcing our commitment to meeting the global demand for Natural Gas".
CCS plans
The project involves one of the largest CO2 carbon capture and storage facilities. QE aims to have 11mn tpy of CCS capacity by 2035. Technip reported that the NFS project would involve a CCS facility of 1.5mn tpy, making the LNG plant emit 25% less than other such plants.
The project will be linked to the power grid. It will receive a "significant" amount of energy from a solar facility under construction in Ras Laffan. Other environmental points raised by QE include a boil-off gas recovery system and tertiary water recovery.
Qatar currently has capacity of around 77mn tpy of LNG. The North Field East (NFE) development will boost LNG production to 110mn tpy. Adding NFS on top will bring it to 126mn tpy, it should start in 2027.
Recommended for you

Shell and Qatar sign 27-year LNG supply deal for Netherlands