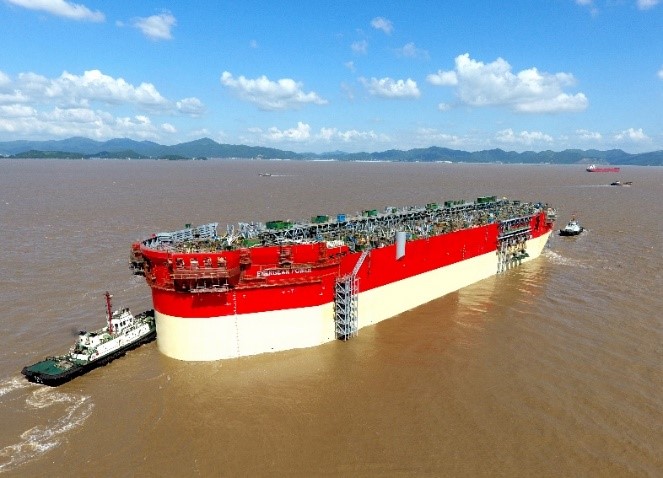 Energean has taken final investment decision (FID) on its Karish North gas development, offshore Israel.
The company forecast the development would start in the second half of 2023. Energean has also announced the signing of a $700 million loan, of which $150mn will go on Karish North.
The company discovered Karish North 21 months ago. The find will be tied back to the Energean Power floating production, storage and offloading (FPSO) vessel, which is 5.4 km away.
DeGolyer and MacNaughton provided a report in November 2020 giving 2P reserves at Karish North of 32 billion cubic metres of gas and 34 million barrels of liquids. The first well should produce around 3 bcm per year.
The main Karish development is due to begin producing in the fourth quarter of 2021. Subsea and onshore work is due to be completed in the second quarter, while the FPSO should leave Singapore in the third quarter.
Adding Karish North to the FPSO will mean that potential flow is more than the vessel's 8 bcm per year capacity, improving project reliability.
Loan
Energean also announced the signing of an 18-month, $700 million loan with JP Morgan and Morgan Stanley Senior Funding. This cash will go to developing the Karish North plan and funding the acquisition of a stake in its Israeli subsidiary.
The loan is priced at 5.75%, with 0.25% increases every three months, taking it to a maximum of 7%. The company signed the loan on January 13. At the same time, it reached a deal with lenders for its existing project finance facility. This agreement extends the maturity of the project finance by nine months, to September 2022.
Energean will also use cash from the loan to install a second oil train and second riser on the FPSO. This will bring its liquids handling capacity to 40,000 barrels per day, from 21,000 bpd. It also increases the gas-handling capacity to 8 bcm per year, from 6.5 bcm per year. This equipment will be operational in 2022.
The company also noted its exploration and appraisal drilling programme in Israel in early 2022, which may include five wells.
Structure
Energean said the loan and existing facility would allow it to optimise its long-term capital structure.
"I am delighted that we have taken [FID] on Karish North, proving the value of the Energean Power FPSO as a quick and low-cost commercialisation route for our assets in Israel. We are also increasing the liquid processing capacity of our FPSO to process the additional volumes we discovered for minimal incremental cost," said company CEO Mathios Rigas.
Commenting on the proposed changes on the capital structure, Rigas said this would "ensure that we maximise total shareholder returns whilst implementing our growth ambitions in Israel and the East Med". Energean is "on track to achieve our goal of delivering meaningful free cash flows that will support the payment of a sustainable dividend whilst also moving towards our stated target to achieve net zero emissions".
On December 30, Energean said it would buy a 30% stake in Energean Israel from Kerogen Capital. It will pay an up-front sum of $175mn with another $155-180mn at a later date, after Karish has started producing. Energean will also provide convertible loan notes of $50mn.
Recommended for you

ROVOP scores long-term Energean award