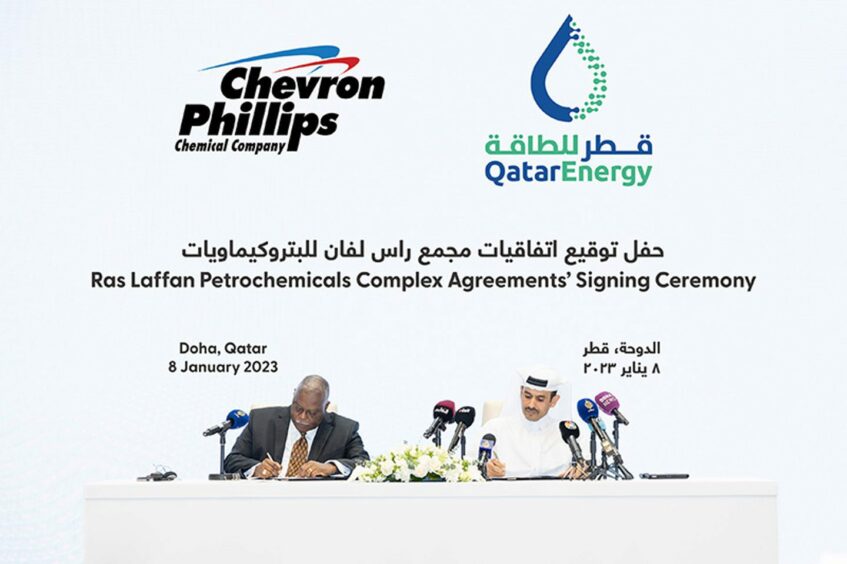 QatarEnergy (QE) and Chevron Phillips Chemical have taken a final investment decision (FID) on the construction of a $6 billion petrochemicals complex at Ras Laffan.
QE president and CEO Saad Sherida Al-Kaabi and CPChem president and CEO Bruce Chinn signed the agreement on January 8. The two have agreed to a new joint venture, with QE holding 70% and CPChem 30%.
Phillips 66 president and CEO Mark Lashier also attended the ceremony.
QE awarded engineering, procurement and construction (EPC) work on the ethylene plant to SCJV, a joint venture of Samsung Engineering and Taiwan's CTCI. It awarded EPC work worth $1.3bn on the polyethylene plant to Maire Tecnimont, while Emerson won the main automation contract.
CPChem will provide project management services.
The company began early works in June 2022 and the Ras Laffan plant should start producing in late 2026.
It will be able to produce 2.1 million tonnes per year of ethylene from an ethane cracker. It will be one of the largest in the world. The plant will also have two polyethylene trains, capable of producing 1.7mn tpy.
Global plans
The project is QE's "largest investment ever in Qatar's petrochemicals sector and the first direct investment in 12 years", Al-Kaabi said.
"There is no doubt that this cornerstone investment in Ras Laffan Industrial City marks an important milestone in QatarEnergy's downstream expansion strategy. It will not only facilitate further expansion in the downstream and petrochemical sectors in Qatar, but will also reinforce our integrated position as a major global player in the upstream, LNG, and downstream sectors."
QE and CPChem began work on a polymers facility in Texas in November 2022, in an investment worth $8.5bn. QE has a 49% stake, while CPChem has 51%.
CPChem's Chinn said the company was expanding its global asset base, with a focus on accessing reliable, affordable feedstock. "This investment will help meet global demand for polyethylene products," he said.
Chevron and Phillips 66 founded CPChem in 2000.