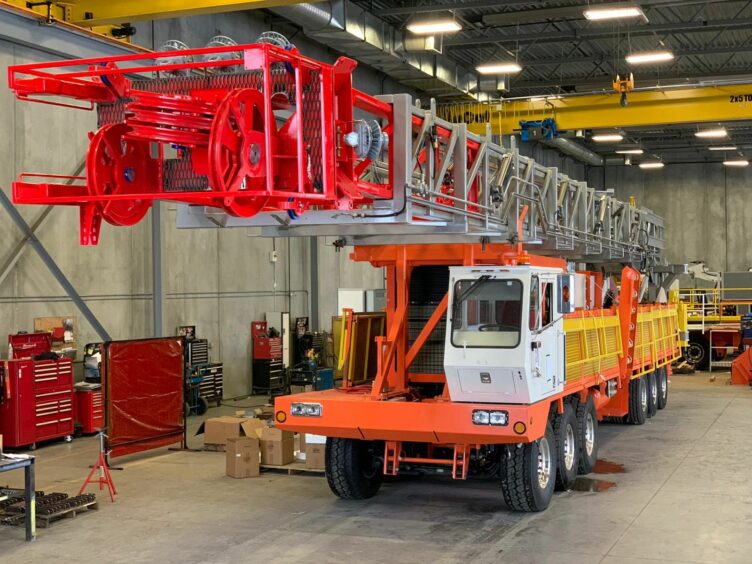 A Canadian company has loaded two well service rigs onto an Antonov AN-124 to carry them to Oman.
The flight carrying the two rigs took off on June 27 from Calgary, Highwood Equipment Technologies said. The AN-124 is one of the largest aircraft ever built, it said.
Highwood did not report when the rigs would arrive in Oman. The flight went first to Winnipeg and then onto Gander, in Newfoundland & Labrador, on Canada's east coast.
Al Shawamikh Oil Services (AOS) ordered the rigs in January this year. Highwood custom designed, procured, fabricated and assembled the units in record time, it reported. A third rig is to follow.
The company said it designed the rigs to minimise manual labour.
Highwood workers loaded the two rigs, weighing 130 tonnes, on June 26. One attraction of the aeroplane is its special nose gear
"Under some of the most difficult circumstances in Canadian oilpatch history, our innovative approach has created jobs and a much-needed boost to the Alberta economy," says Highwood president Rob Wawrzynowski. "We are excited to be part of the group that helps re-establish Alberta as a world leader in innovation and safety."
Highwood expects all three rigs to be working in Oman for Petroleum Development Oman (PDO) this summer. They will be working for PDO on a 10-year contract.
Growth plans
Highwood is also opening a facility in Oman to support its expansion into the Middle East and North Africa.
AOS reported the signing of a deal with Highwood on June 27. This will see Highwood providing modern technologies to Oman's energy sector.
Antonov designed the AN-124 in 1968 and a first flight took place in 1982.
In 1993, an AN-124 flew a Siemens electric generator, weighing 135.2 tonnes, from Germany to India. This was a world record although the AN-124's successor, the AN-225, has surpassed this amount.