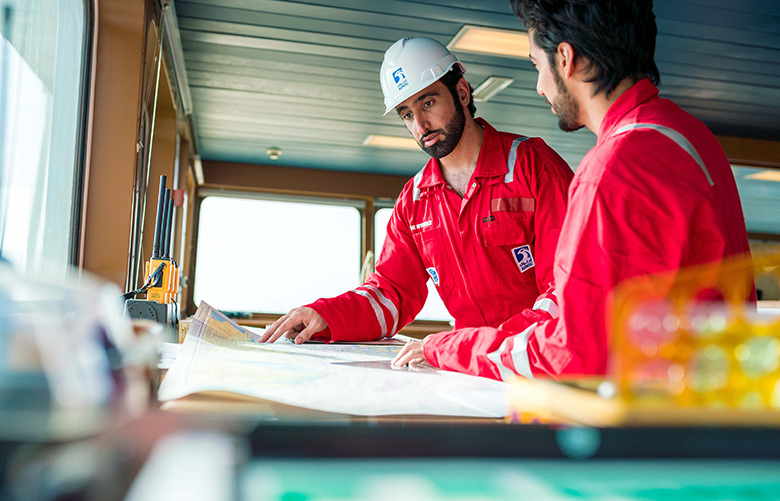 Adnoc Logistics and Services (L&S) has received its first new VLCC, the Hafeet, capable of carrying 2 million barrels of crude at a time.
The vessel is the first of four Adnoc L&S ordered, with a $2 billion investment. The VLCCs are dual-fuel, capable of also running on LNG.
Captain Abdulkareem Al Masabi, CEO of ADNOC L&S, said: "The addition of Hafeet, the first of four newbuild VLCCs to our expanding ADNOC L&S fleet, will increase our energy transportation capacity in line with our ambitious growth strategy."
The official said the investment in new vessels "reinforces our commitment to more sustainable shipping and to decreasing the carbon intensity of our operations". The company is working towards the International Maritime Organization's decarbonization targets of halving greenhouse gas emissions from international shipping by 2050.
The company's existing fleet is equipped with scrubbers.
Hafeet is 336 metres long and 300,000 tonnes deadweight. Adnoc L&S expects to receive a second VLCC this month, with the third and fourth arriving in the third and fourth quarters of this year. The company has 18 tankers already.
Hanwha Ocean, formerly known as Daewoo Shipping and Marine Engineering (DSME), built the vessels at its Okpo shipyard. These are in South Korea's Geoje Island.
Chasing spot
Adnoc L&S will trade the vessels in the spot market. It has scaled up its transportation volumes over the last few years. In 2020, it carried 0.3 million tonnes of crude. It increased this to 4.2mn tonnes in 2021 and 6.2mn tonnes in 2022.
The company has said the expansion of its fleet drove this increase. Its main shipping routes are from the Arabian Gulf and West Africa into Asia and Australia.
In addition to the new VLCCs, Adnoc L&S has also ordered six new LNG carriers. It expects these in 2025-26.
Adnoc L&S, in its prospectus, said it planned to continue growing its shipping fleet.
Recommended for you

UK Government backs Port of Aberdeen's multi-million-pound shore power project