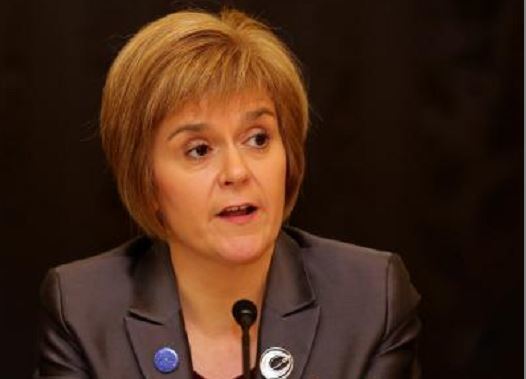 First Minister Nicola Sturgeon yesterday insisted oil workers are finding new jobs as she ploughed £25million into supporting the industry – despite claims the intervention is a year too late.
The SNP leader said the energy taskforce set up a year ago had engaged with more than 2,500 workers, but did not elaborate on how many had gained new employment as a result.
She conceded the work of the taskforce had not been "solely responsible" for helping North Sea workers find new roles, but she was confident it would "have played a part".
Ms Sturgeon made the comments during a visit to Aberdeen yesterday to meet industry chiefs, and to attend a meeting of the energy taskforce.
She announced a £12million Transition Training Fund to help workers affected by the downturn retain or retrain skills, and revealed a further £12.5million will also be provided to help reduce risks associated with carrying out research and development by companies. A further £2.5million will allow firms to implement targeted support from senior industry experts.
Ms Sturgeon said: "The Scottish Government has got a big part to play in terms of skill and in terms of supporting innovation, we are also looking further right now at what we might be able to do to help support exploration and remove some of the barriers to exploration. The announcements are really hitting two of those areas: skills – helping people in a very targeted way who are losing their jobs to retrain or re-skill, but doing it in a way which helps maintain skills in the energy sector – and secondly, in research and development and helping support companies looking to innovate, to cut their costs that way.
"That can often be a very risky thing for a company to do to try new methods and new products so we're trying to provide some support to take some of the risk out of that."
The cash injection comes after David Cameron visited Aberdeen last week and announced £20million in additional funding for the oil and gas sector. The Scottish Government and Westminster also pledged more than £400million as part of the City Region Deal.
Ms Sturgeon pointed to the fact the taskforce had been "intensively engaging" with people – 2,500 at the last count, she said – as an indicator that it was helping the challenges of the industry.
"The other contextual point, which I'm not for a second going to say is all down to the taskforce or Scottish Enterprise, but at a time when we're seeing the difficulties we're seeing in the North Sea, with numbers of people losing their jobs, we're also seeing unemployment in Scotland fall and employment rise.
"There is obviously a very strong suggestion people who are losing their jobs in the North Sea are finding their way into alternative employment.
"Now we can't afford to be complacent about that, which is why we're announcing further action, and there's no doubt what the taskforce won't have been solely responsible for that, but the interventions it's been making and the work that it's been doing will have played a part."
But Labour MSP Lewis Macdonald last night branded her comments as "extraordinary" and accused her of "trying to disguise the crisis" by referring to other parts of the country where there have been increases in work.
"The Scottish Government's offer of extra money to train those made redundant by the oil and gas industry is a step in the right direction but a year later than it should have been," he added.
RMT regional officer Jake Molloy last night questioned if people were finding work in the oil and gas sector, and warned a skills gap could emerge.
He said that at the energy taskforce meeting, members were told of 800 registered attendees at PACE events held for employers and staff, and about 300 had managed to find new employment.
He said while the number was a "reasonable figure", workers were gaining jobs in other sectors, including as bus drivers.
He said: "I have had members who have diversified and moved into other areas, but as I've said before, it creates a skills gap in the sector, with workers unlikely to return to the industry. The PACE events have been really helpful, but whether people have been able to find work in the oil and gas sector, I'm unsure."