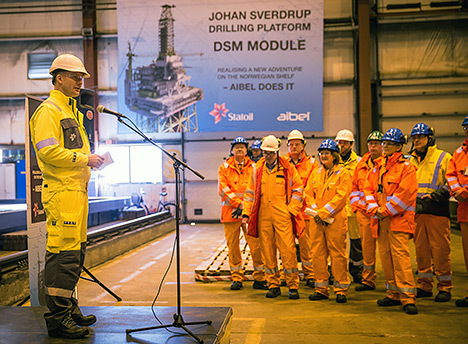 First steel has been cut for Statoil's Johan Sverdrup drilling platform for the North Sea, marking a major milestone for the firm's flagship development.
A ceremony to mark the start of the construction took place at Aibel's yard in Haugesund, Norway today.
"Aibel won the contract for the construction of the drilling platform about one year ago. Following an extensive planning and engineering process it feels good to start the construction of the first of four topside structures for the Johan Sverdrup project", explained Kjetel Digre, Statoil's senior vice president for the Johan Sverdrup project.
More than 14,000 people are involved in the Johan Sverdrup project on a daily basis in 2016, 1,000 of them working for Aibel in Norway.
Digre added: "We now see the effect of Norwegian industry being competitive, winning most of the principal contracts and equipment deliveries for Johan Sverdrup.
"We are dependent on all of these people to successfully deliver the project on time, to the required quality, and above all, without any HSE incidents," Digre says.
The construction contract for the Johan Sverdrup drilling platform was awarded to Aibel in February 2015.
The topside engineering work is being performed in Aibel's Asker office, where Statoil's project team is located.
The 22 500-tonne topsides will consist of three modules, one of which will be built at the yard in Haugesund, one at the Deeline yard in Thailand, and one at Nymo's yard in Grimstad.
The modules will be assembled at Aibel's yard in Haugesund in the autumn of 2017, before the platform is installed on the field in 2018.
The pre-drilling templates were installed on the field last summer. The Deepsea Atlantic semi-submersible will start pre-drilling wells on the field in March 2016.
"The most complex platform on the Johan Sverdrup field, the drilling platform will come on stream at the end of 2018. We will then start phasing in the pre-drilled wells before production from the field commences at the end of 2019," Digre says.
tatoil said that costs for the first phase of the development has been reduced by 12%.
"We are on track in the project, and have seen a positive cost development. This is still in an early stage of the project implementation: What matters now is to maintain focus throughout the process," Digre added.
Recommended for you
X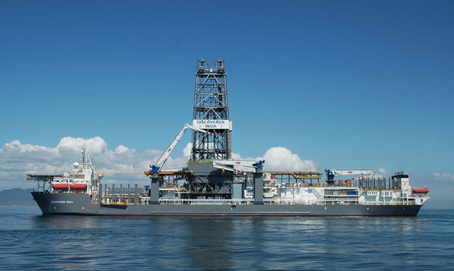 Chevron strengthens team with new Asia-Pac appointment