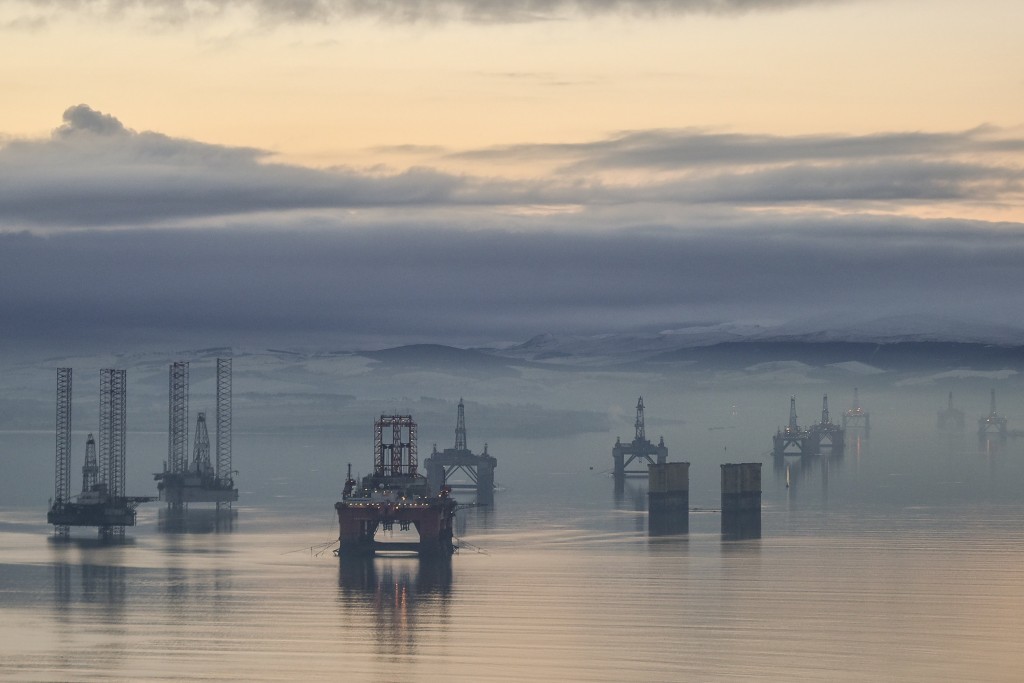 As the North Sea industry grapples with budget cuts and thousands of job losses, the chief executive of the Oil and Gas Authority has called on the sector to refocus its efforts on the opportunities still available at $30 oil.
Andy Samuel sat down with Energy Voice, on the eve of the authority's one year anniversary, to discuss how the industry was mounting its defence through the strength of its service sector, stating the sector must "keep calm and carry on".
"I think the industry needed to correct bad behaviours in terms of cost and efficiency," he said.
"It has done that. It now needs to refocus its efforts on the opportunities still out there."
The industry leader pointed to infill wells, the potential of small pools recovery and becoming the global expert centre for late life recovery as possible first ports of call.
"People often talk about the difficulties of the North Sea, but actually there's a real opportunity," he said
"You can flip it on its head. Through actually getting really good at tackling these late life challenges we develop an international export expertise and that can be commoditised. Long term, the real value is going to come through the service sector and a lot of that is through international exports."
The service sector has been hit with an onslaught of rate cuts the job losses in the past year.
Last week, the Scottish government confirmed 10,000 jobs had been cut since Brent started its decline.
"The job losses are horrible," Samuel said.
"We all have many friends in the industry and we all know people who are directly affected and the ripple effect through families and communities can not be overstated. We will do anything we can to help, particularly through promoting investment, because it's activity that preserves jobs.
"I do think we're starting to see a different conversation and people realise that there's more value created through more longer term partnerships and are trying to get away from the boom and bust cycles.
"Right now the service sector feels that for many operators the conversation has been too much about unit cost and price reduction.
"But operators are getting the message and some of them are looking at longer term partnerships and alliances that should hold through a number of cycles, and that is something we would very much encourage because we think that's where real value is created.
"It's been talked about for too long but surely now is the time for standardisation and simplification along with innovation. The two can go hand in hand actually, and they shouldn't be seen as opposing.
"It needs to happen."
Samuel credited the UK and Scottish government's recent financial injections as a critical means of anchoring the service sector in the north-east.
"It was a great week for the industry in terms of the technology and the very specific contribution for the oil and gas technology centre, which is a massive step forward," he said.
"It has really moved this vision of anchoring the service sector into the north-east ahead and creating a sustainable industry well beyond the North Sea.
"Technology has a large part to play in recovering the remaining 20 million barrels."
But recovery isn't without its challenges. $30 oil has rattled investor confidence, creating new financial hurdles for companies already grappling with stifled cash-flow.
The OGA has since formed a contingency team, which has been tasked with mitigating some of the risks.
"More recently we're paying attention to financial aspects as well, because assets, operators and co-ventures are not just connected physically they're also connected financially," he said.
"As Sir Ian was concerned, some very good companies are facing some very difficult times.
"I have formed a contingency planning team within the OGA that is targeted specifically at addressing, where possible, those risks and doing everything we can to help support companies, getting in early, understanding the issues and intervening where possible.
"If we can help increase confidence with the investment community we will do everything we can."
However, despite the challenges, Samuel's own confidence in the industry is not shaken.
"This remains a great industry with hugely valuable reserves still to recover and a hugely valuable service sector," he said.
"The fear is that this downturn could reduce those if we don't work in a very focused coordinated manner to do everything we can to protect the industry.
"Most people would argue it's a very cyclical industry and price will recover. The UK globally is still heavily dependent on oil and gas, and if anything there are many good forces switching to gas as a very important fuel for the next 20 to 30 years at least, so there's a great future ahead.
"We talk about creating this bridge toward the future. We just need to get through this difficult period, retain skills, retain confidence and retain infrastructure. Actually, some people are still concerned about the other side of the cycle and overheating and all of the dysfunction that can come back in if things overheat too fast."
The one thing that remains the same in $100 and $30 oil price environment is the hardest part of his job, according to Samuel.
"The hardest bit remains facilitating behavioural change, which isn't a surprise, because I know how hard that is, but it remains the most difficult part of the job," he said.
"We're not here to tell people how to do their job, but we can see opportunities when people truly collaborate, trust each other and work in a different way and when it happens it's fantastic. When it doesn't happen it's frustrating.
"So I'm looking right now at the next series of interventions.
"We have a privileged position where we see a lot and we need to continue our work as urgently as ever to catalyse this change.
"Just a bit of recovery in oil price will help with confidence and people will see that they can lock into some really good deals with the service sector, and perhaps collaborate in a different way and create some value. And perhaps, if they time it right, developing now and bringing new production on when the oil price is high again has to be a smart thing to do.
"There is still some wonderful work going on right now."
Samuel referenced a project aimed at unlocking the resources trapped in the West of Shetland as a step in the right direction. The scheme has the buy-in of six major operators all pulling in the same direction.
Shell, DONG, Total, OMV, Chevron and Conoco Phillips are all working with the OGA as part of the West of Shetland Gas Evacuation project.
Last week, Total confirmed first gas from its flagship Laggan-Tormore project. The scheme will produce 90,000 boepd.
Samuel said: "There's no single simple solution to this. The more those companies can continue to invest and sustain activity the more we can sustain jobs in the industry, so that to me is a priority."
The OGA will also be launching a competition on the back of its £20million seismic survey results.
Companies will be given "seed money" to come up with solutions of how to best capitalise and generate the resource findings.
More information on the competition is expected in the coming weeks.
All of this is geared at positioning the north-east as a centre for technology, simplification and a host for late-life expertise.
And as spectres far and wide debate the significance of a photo, Samuel said what he sees in the Cromarty Firth right now is opportunity – opportunity for the companies that can go counter-cyclical, opportunity for the "third and fourth generation semi-subs, which are ideally suited for decommissioning work", and opportunity for the firms which form partnerships now for work down the line.
Samuel said: "I see a carbon copy of 1986. We've been here before. We've weathered the storm. We need to be more careful this time around, because we're bit older, but there's still 20 billion plus barrels to recover. There's still a huge amount to play for. We have the skills. We have the knowledge. We need to keep calm and carry on."
Recommended for you

Tailwind says NSTA regulator is reason why it had to give up North Sea discovery