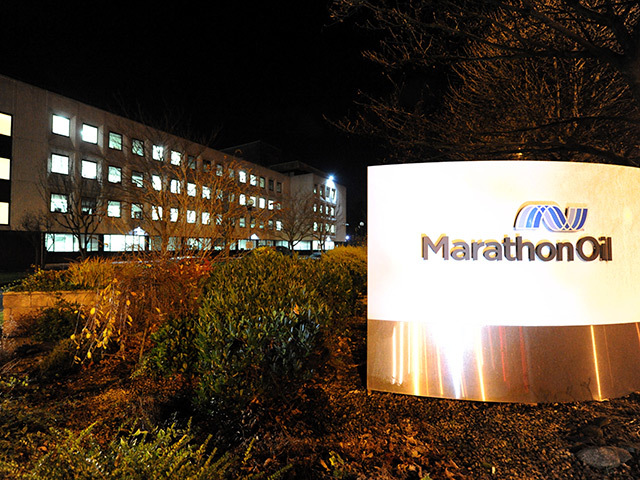 Marathon Oil Corp., which is joining a slew of U.S. producers selling equity to shore up their finances during the worst market rout in a generation, increased the size of the deal. The stock slid as shares outstanding will rise by about 20 percent.
The producer increased its offering to 145 million shares, priced at $7.65 apiece, from 135 million, Houston-based Marathon said in a statement. The underwriters will have the option to buy an additional 21.75 million, allowing the company to raise as much as $1.28 billion. The stock fell 5.7 percent to $7.74 at 11:17 a.m. in New York, extending its slump this year to 39 percent.
Marathon is the latest U.S. oil company raising cash by selling shares as it seeks to ride out the worst oil-price downturn in decades. Devon Energy Corp. raised about $1.5 billion last week. Pioneer Natural Resources Co. and Hess Corp. are among other producers that offered shares to raise cash.
"It supports the notion that Marathon will have the cash to continue to weather this downturn," said Brian Youngberg, an analyst at Edward Jones in St. Louis. "These are unusual times and, at the end of the day, the focus is on liquidity and credit."
Last year, the company cut its dividend by 76 percent to preserve cash. Earlier this month, Marathon also slashed its 2016 capital spending plan more than 50 percent below last year's budget.
Morgan Stanley is acting as the book-running manager for the offering, Marathon said. The offering is expected to close on March 4.
Recommended for you

CNR International announces 'special dividend' as oil profits continue swell