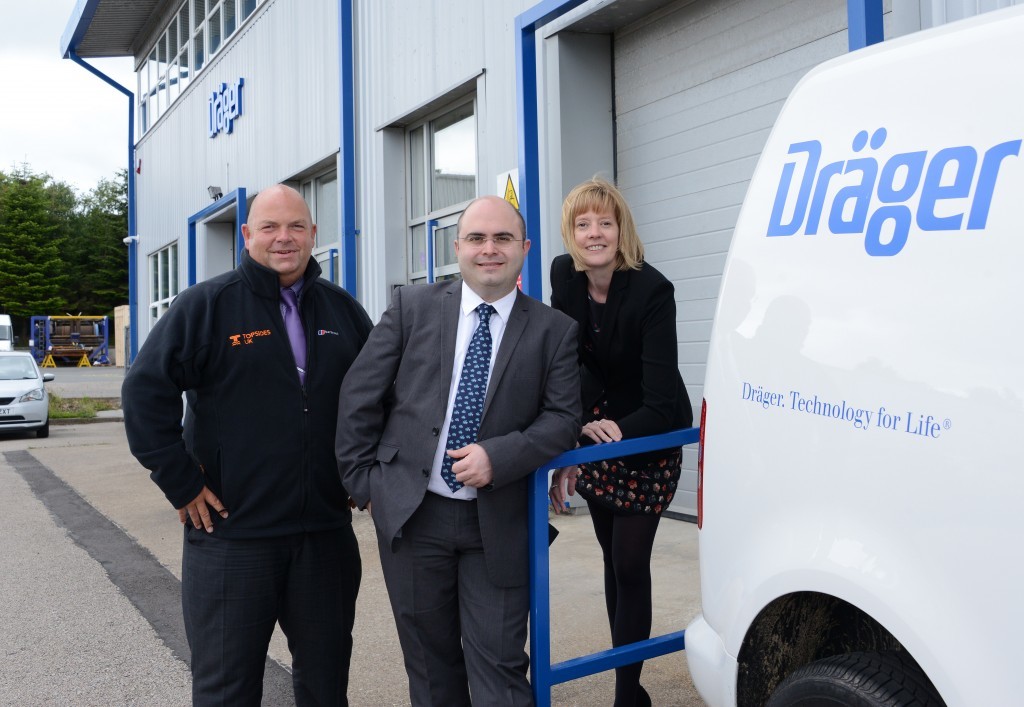 Topsides UK, a new two-day conference and exhibition launched to provide real solutions to the current challenges faced by the oil industry, is taking place this week on Wednesday 16th and Thursday 17th March at Aberdeen Exhibition and Conference Centre.
With its focus on maturing North Sea topsides installations, organisers, Xcite Media, are set to welcome over 60 exhibitors, 40 industry speakers, 100 elevator pitch presenters and over 1,000 visitors to the first and only event of its kind in Europe.
The event, which welcomes safety and medical technology firm Dräger as its headline partner, and Petrofac as the conference partner, was launched to encourage industry leaders to come together and share examples and case studies of working cooperatively, innovatively and efficiently during the toughest times the industry has faced.
Gavin Esslemont, Director of Xcite Media said "Whilst there is a clear recognition that the industry needs radical transformation to ensure that the North Sea remains open for business, many supply chain companies recognised this need early and reacted quickly to understand how they could operate more efficiently and offer more value to their clients.
Those companies can now demonstrate innovative solutions and alternative approaches to address common problems that continue to lead to inefficient production and heightened operating costs. We are pleased to see many of these companies presenting and showcasing their early successes at Topsides UK, some of whom have already recorded their elevator pitch and posted online on the Topsides UK website. We are delighted at the response and the support that this new event has received and we look forward to an informative two days."
Michail Tzouvelekis, Regional Segment Manager, Oil & Gas at Dräger says, "Dräger is delighted to headline the first ever Topsides UK. It's a great initiative for the oil and gas industry and we're proud to be involved from the very beginning in what we hope will become a successful annual event.
"This event will give us the opportunity to talk to operators and contractors to better understand their needs and work with them on innovative complete safety solutions for the future.
"Dräger provides technology which protects, supports and saves lives. We have a dedicated oil and gas team of over 100 people around the North Sea and multiple sales and service centres across the UK, Norway, the Netherlands and Denmark. Oil and gas workers rely on our quality products to keep them safe offshore."
Walter Thain, Managing Director, Petrofac Engineering & Production Services, West said "Topsides UK will provide a platform for all industry stakeholders to discuss the key challenges we face and to identify how we can work together more effectively. Across the two-day event we hope operators and service companies will take the opportunity to share best practice and help us all drive greater collaboration without losing focus on maintaining safe and efficient operations."
The conference programme includes a keynote address from Gunther Newcombe, E&P Director, OGA, and is packed with industry leaders, and panel discussions, covering topics including 'Workforce and Skills Development', 'Driving Efficiencies by Adopting New Technologies' and 'Business Development in Tough Times'.
Visitors to the free exhibition can expect to witness high-octane, supply chain elevator pitches within a virtual helideck, presentations within the Aberdeen & Grampian Chamber of Commerce Networking Area, and a fully installed topside decking.
Entrance to the exhibition is free of charge, and a limited number of conference passes still remain. To avoid queues pre-registration is recommended via www.topsidesuk.com