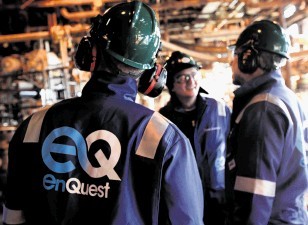 A change in UK legislation which gives oilfield operators tax relief on decommissioning costs when selling an assets could help speed up North Sea deal, according to EnQuest.
The company, which revealed its Kraken development had made huge savings as well as being on target for production, said changes made by Chancellor George Osborne would help attract more buyers.
EnQuest said it expects to benefit as other groups will see cost advatnages in selling late-life oil and gas fields.
Jonathan Swinney, EnQuest's finance chief, said: "The tax changes facilitate late-life asset transfers because decommissioning tax relief is a big part of the transfer. Over the medium term it will be positive."
The North Sea focused oil producers today reported a 20% fall in full-year core earnings as it was forced to write down $626million on the calue of some of its assets due to the decline in oil prices.
EnQuest's earnings before interest, tax, depreciation and amortisation (EBITDA) fell to $465 million from $581 million in 2014.
Recommended for you

bp, EnQuest, Spirit offer decom data dashboard to give suppliers inside track