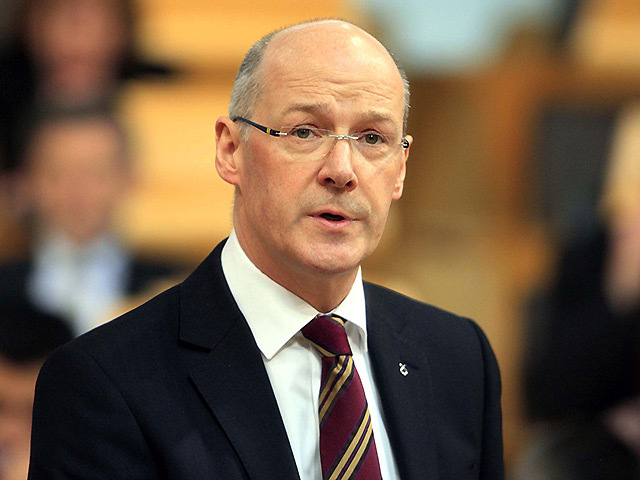 John Swinney has said Chancellor George Osborne "could have done more" in his Budget to help the North Sea offshore industry.
Scotland's finance secretary said the measures would be "helpful" but more should have been done "given the scale of the challenge".
Mr Osborne announced tax cuts amounting to around £1billion for the oil and gas industry in his Budget, including scrapping Petroleum Revenue Tax and halving the supplementary charge.
But Mr Swinney said more could have been done to aid exploration and individual businesses.
He said: "When I saw the chancellor a year ago and we discussed specifically oil and gas taxation, he asked me – in the course of that conversation – that if he did something helpful would I at least have the good grace to say it publicly.
"When I saw him recently I was reminding him that I did have the good grace to say it publicly.
"I think what he did (in the Budget) was helpful, but I think given the scale of the challenge that we currently face I think that the chancellor could have done more to reduce the cost to individual companies and thereby fundamentally give them the ability to weather what is a very difficult period.
"I think a more significant step could have been taken into the space of exploration and development, which would have been of assistance to the oil and gas sector.
"Those are the kind of things that I wish that he had just gone that bit further but fundamentally I think it was helpful.
"Obviously the oil and gas sector is significant to the Scottish economy so encouraging and motivating its recovery at the earliest possible opportunity is exactly what we should be doing.
"The steps that we take and the UK Government are designed to try do that as effectively as possible."
Mr Osborne said the level of support for the oil and gas sector on the table was only possible "because of the broad shoulders of the UK".
He added: "None of this support would have been remotely affordable if, in just eight days time, Scotland had broken away from the rest of the UK, as the Nationalists wanted.
"Thankfully the Scottish people decided we are better together in one UK."
As well as the tax cuts, he pledged to provide certainty that companies would be able to access tax relief on their costs when they retain decommissioning liabilities for an asset after a sale.