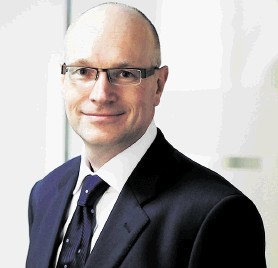 The North Sea oil crisis is a health scare that must prompt the industry to make lifestyle changes to make it healthy for the long term rather than a fad diet soon jettisoned for old bad habit, according to a senior industry figure.
John Pearson, Amec Foster Wheeler's Group President Northern Europe and CIS, said transformational change could and would make a significant difference that could ensure the survival of the industry, but that it would take hard work and effort to get become a leaner and more competitive industry.
Pearson, who heads up Oil and Gas UK's Energy Taskforce, said the industry had taken steps to reduce costs by 43% since the oil price dived in 2014.
He was speaking at a seminar at the University of Aberdeen to discuss how maximise economic recovery from the North Sea.
Pearson said a down market could be viewed as a good thing,
"It's like a health scare, do things you always knew you had to do and hopefully it becomes a lifestyle change, not just a January diet.
He added: "This downturn is different, it's down and it's going to stay down for a while. We cannot just hold our breath for a bit until thing get better
"The core problem is not the oil price. The core problem is not DECC, the regulator or tax issues. The core problem is we're horrendously inefficient as an industry. We have optimised everything but efficiency."
Pearson said an example was the level of "bespoking" in the industry, which he described as "stratospheric" levels.
"Trust me, there is so much value leakage [in the industry] it's untrue."
He cited the example of a normal valve which has multiple bore hole versions that varied only by thousandths of an inch.
"The laws of physics do not vary by thousandths of an inch when you are turning things on and off, that's someone's calculator going up and down a decimal place. The ramifications are there's no stock, when you need something it's not there and it's just very, very silly.
He said standardisation did not mean putting the brakes on innovation.
Standardising valves won't change the world, but its pretty useful and inspires other initiatives, he added.
"People who really survive are those who do not waste a crisis and come out better for the long time. They say we've got to transform and stop taking advantage of commodity prices."
He said the industry was working hard to reduce production costs, which had come down from an average of £17 per barrel, to £14 and were heading towards a target of £10.
"We've got to say that's good progress.
"I'm genuinely very optimistic. The key is to get involved. People need to do 'stuff", change and collaborate."