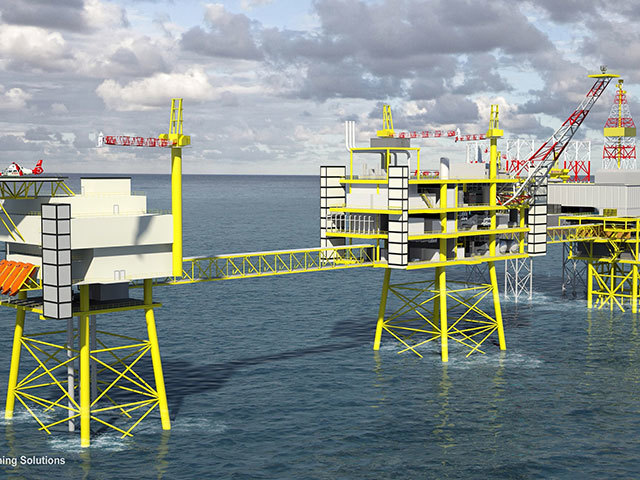 BP has doubled its stake in the Culzean North Sea gas field as part of the energy giant's £7 billion investment programme in the region.
The company has raised its holding from 16% to 32% in the development, which is expected to produce enough gas to meet 5% of total UK demand by 2021.
Production at the Maersk-operated field is expected to start in 2019 and continue into the 2030s, with production forecast to peak at the equivalent of 60,000 to 90,000 barrels of oil per day.
Mark Thomas, BP regional president for the North Sea region, said: "BP has been focusing and refreshing its North Sea portfolio by bringing new fields into production, redeveloping and renewing existing producing facilities and divesting some of its more mature or less strategic assets.
"Our deepening in Culzean further demonstrates our commitment to supporting the development of another UK field for the future."
Mr Thomas flagged the low oil price as representing a "challenging time for the industry" and stressed the importance of efficiency.
Discovered in 2008, the Culzean gas field is estimated to contain the equivalent of 250 to 300 million barrels of oil.
In April, BP said that first quarter losses narrowed as cost-cutting helped it offset falling crude prices. Replacement cost losses came in at 485 million US dollars (£335 million) for the first three months of the year, down from losses of 2.2 billion US dollars (£1.5 billion) in the previous three months.
The figures showed trading has improved since a dismal end to 2015, with oil prices touching near 13-year lows. The global commodity price rout saw the cost of crude drop to 34 US dollars a barrel on average in the first three months of 2016 compared with 54 US dollars a year ago.
The North Sea oil industry has also been hammered, with an estimated 5,500 jobs lost since the oil price fell 60% from 115 dollars a barrel in the summer of 2014 to 48 dollars today.
More than 65,000 indirect jobs reliant on the oil industry have also been lost.