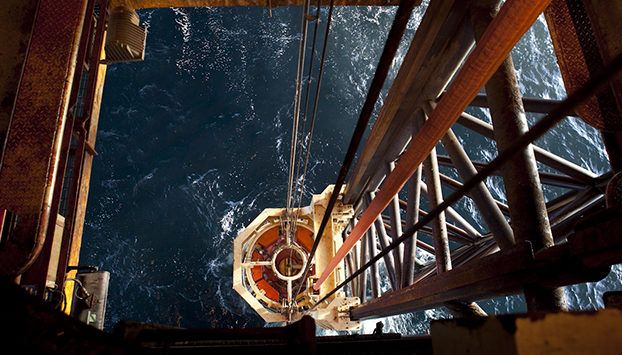 Oil and gas operators have seen a 15% reduction in their UK-based headcount over the past 12 months – and they expect a further decline of 17% in the year ahead.
The worrying forecast about further job cuts is from Aberdeen and Grampian Chamber of Commerce and Strathclyde University's Fraser of Allander, whose 24th Oil and Gas Survey highlights the scale of the malaise currently afflicting the North Sea sector.
While a large majority of companies (85%) expect to increase their involvement in decommissioning work over the next three to five years, Uisdean Vass, Aberdeen-based oil and gas partner at law firm and survey sponsor Bond Dickinson says "great" opportunities in the "funeral industry" are best avoided for as long as possible.
"Six months ago I described the 23rd Oil and Gas Survey as the most negative we had experienced," he says, adding: "Unfortunately, this, the 24th survey, has surpassed it.
"The uncertainty which all those in the industry face at the moment regarding their livelihoods continues and any slowdown in the shedding of jobs does not appear to be materialising.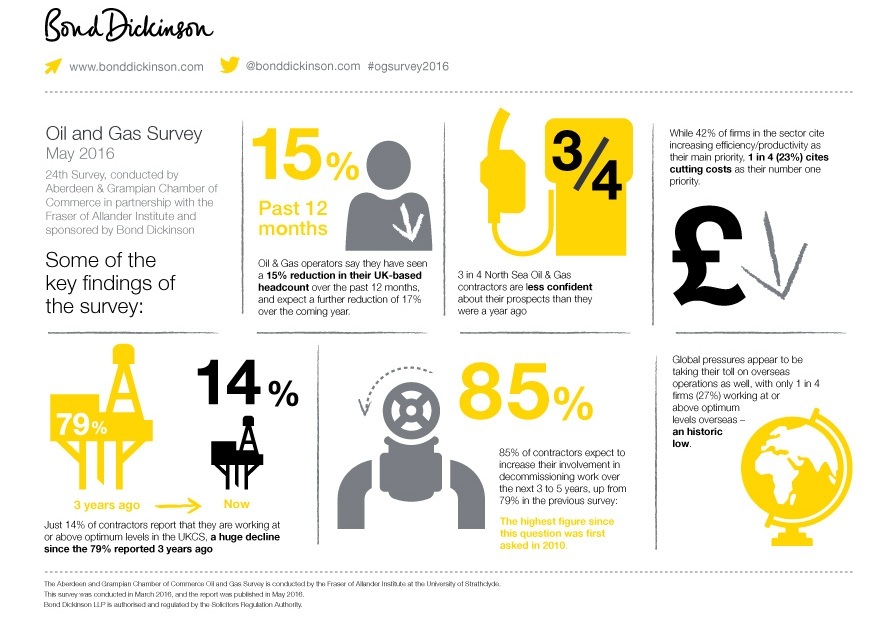 "Operators, after a 15% reduction in staff in the last 12 months, anticipate a further reduction of 17% over the next 12 months – a very considerable increase over the 6% reduction expected just six months ago.
"Business optimism remains near rock bottom, with contractors' confidence about their activities in the UKCS (UK continental shelf) in the year ahead remaining firmly in negative territory.
"Contractors say that their businesses are constrained by difficulty in accessing capital and its high cost. Confidence in overseas markets is relatively higher but unfortunately it too remains negative."
Mr Vass also says it is "very concerning" to see a decline in investment for staff training, equipment maintenance, research & development and merger & acquisition activity.
"We are seeing the impact of the downturn across the board," he says, adding: "Taxi drivers are reporting a 40% fall in revenue since the summer of 2014, restaurants are badly hit, property sales and rentals are declining and there is even noticeably less traffic on the roads. No-one is untouched."
Three in four North Sea oil and gas contractors who took part in the survey said they were less confident about their prospects than a year ago.
Just 14% said they were working at or above optimum levels in the UK North Sea, a huge drop from the 79% reported three years ago.
Level of demand (94%), commodity prices (95%) and economic climate (95%) were seen as the most important factors constraining contractors' UK North Sea activity, followed by complex regulations (68%), taxation issues (70%) and capital costs (71%).
Skills shortages were seen as a limiting issue by 50% of firms and the loss of staff to other companies by 43%.
Nearly half (44%) of the contractors surveyed had cut their spending over the past year, with just 11% reporting increased investment.
This trend is expected to continue, with 42% of contractors saying they planned to reduce their investment over the next two years and just 12% aiming to increase it.