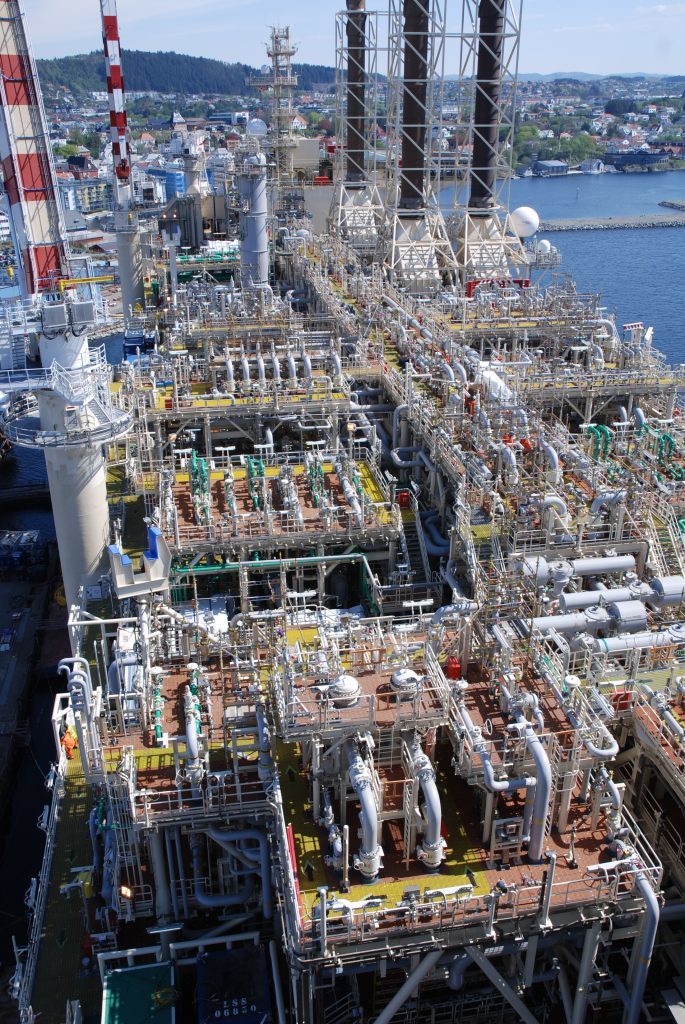 BP has the weather window needed to moor the brand new production ship Glen Lyon on Quad 204 (the Schiehallion field cluster) on the West of Shetland sector of the UKCS.
The company had been holding the vessel at Haugesund, Norway for final adjustments pending waiting on weather. When we visited Glen Lyon recently in the port, it was clear that the ship was in
excellent fettle and ready to go.
Glen Lyon is now on location 175 km west of Shetland and 15 km north of the nearby Foinaven field, which is also operated by BP.
It is currently being cared for bevvy of offshore support vessels. The AIS (automated ship positioning system) shows the Maersk Laser, Normand Progress, Normand Ranger and Normand Prosper holding her on station while mooring legs are progressively picked up and secured to the vessel's massive rotating turret system.
In close attendance is the Normand Installer, which will be assisting with picking up the massive 9,000-tonnes spread of chains.
Weather conditions appear to be good with weather pressure charts showing a slack (benign) system prevailing now and for several days to come.
The current 24-hour area forecast for sea area Hebrides is: east or southeast becoming variable later, force 3 or 4, occasionally force 5 at first; sea state slight to moderate; visibility moderate or good, occasionally poor in fog patches.
Assuming no significant delays or hitches over the summer, production from £3billion Quad 204 should restart before the end of the year.
The Schiehallion and neighbouring Loyal fields have produced nearly 400million barrels of oil since production started in 1998 and an estimated 450 million barrels of resource is still available, much more than was originally thought to exist.
Remaining productive life is estimated at 35 years or so and is a key reason why BP and its partners in Quad 204 opted to replace the original production ship with a vessel of superior design, seakeeping and long-term processing capabilities.
The new production ship measures 270m length overall, by 52m breadth. It has a storage capacity of 800,000 barrels of oil and the process plant is plated to handle 130,000 barrels of oil and 220million cu.ft of gas per day.
A substantial portion of the remaining resource is already developed through the existing field. BP has the Deepsea Aberdeen rig out there drilling new wells and tapping into new reserves.
There are something over 20 wells scheduled for the wider area of Schiehallion; that includes Loyal, Schiehallion dedevelopment, Schiehallion workovers and some wells on another member of the cluster … Alligin.
BP's partners in the redevelopment are Shell and OMV.
Recommended for you

West of Shetland: The projects in the UK's oil and gas hotspot