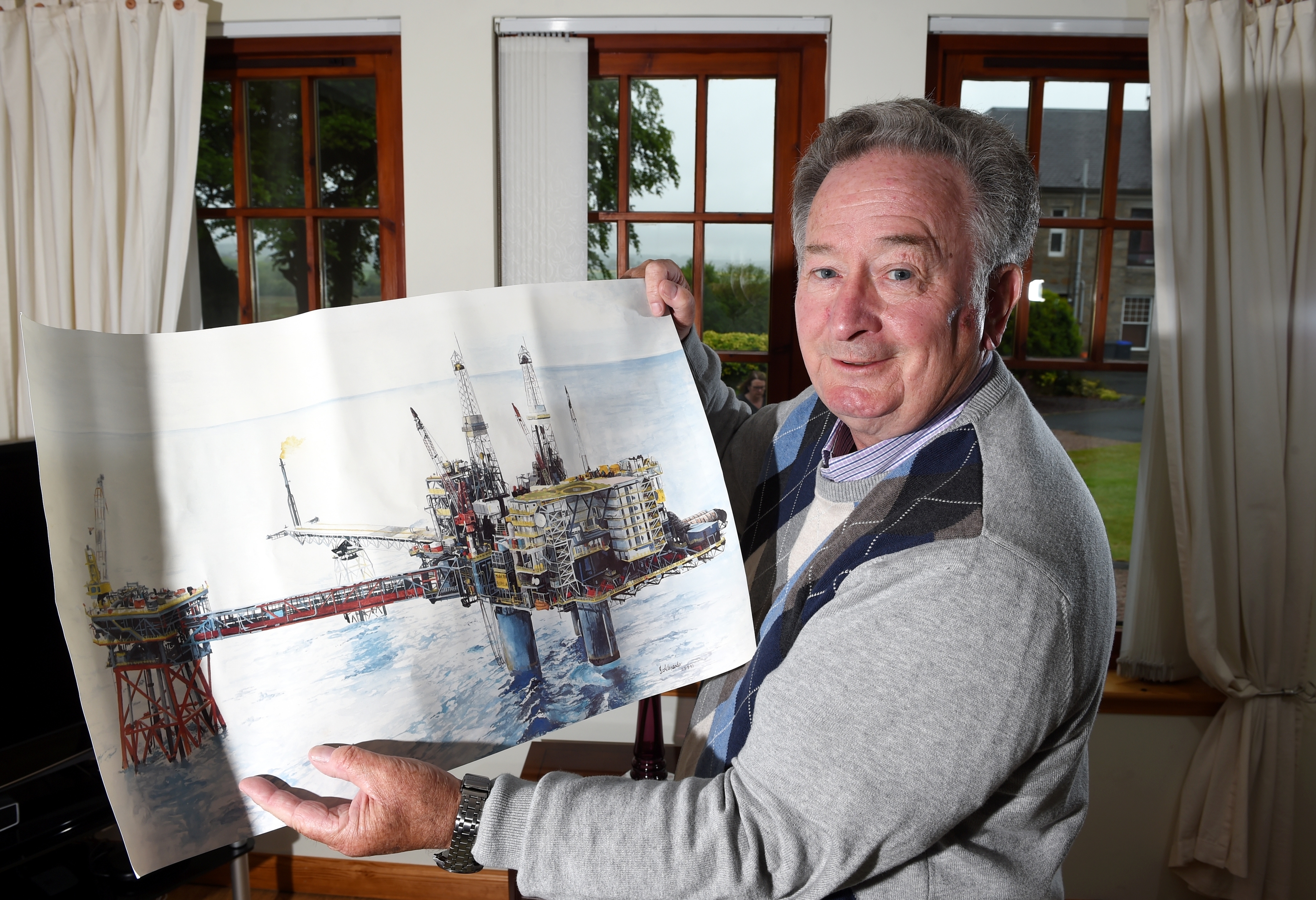 Hugh Campbell was a North Sea pioneer.
In 1977, he became one of the North Sea's youngest Offshore Installation Managers (OIM) .
The Balloch native was working on gas turbines in Clydebank when he heard of Aberdeen's emerging oil industry and signed-up to join the sector. He was assigned to the Beryl field in 1975.
"I got into North Sea oil at the right time," he said.
"We were the pioneers. We had to discover everything. And everything went wrong because they hadn't designed anything for offshore at that time. It was all designed for onshore, so I had a great time and a terrible time all at once."
He was standing at Mobil's first North Sea Christmas party with a pint in his hand when he got a phone call in 1975 during those "all at once" moments.
"We had our Christmas party at the Caledonian hotel and we all had plenty of drink," he said.
"We were all having a good time, when the call came in saying the SPM was drifting, so we called up Bristow and got them to send a helicopter and we carried on drinking.
"There were four guys on the SPM at the time and they didn't know they were floating away. Half an hour before the helicopter arrived the guys on Beryl radioed the guys on the SPM and said they were about to be winched off. They said, 'What? Why?' And the guys said, 'Because you're drifting towards the horizon!'
"I remember on the night there was a really severe storm. When the helicopter pilot arrived he found the boom was downwind, so he had to fly at 70knots in reverse just to remain stationary to winch the guys off. He ended up getting the Queen's award for his bravery for that night."
But more than the drama, Hugh remembers the comradery offshore in era where he says the men used humour not mobile phones (not invented yet) to pass the idle time.
"There was no TV at this time," he said.
"There was only the cinema and everybody used to go – it was standing room only. Now they have cinema but nobody goes. They all just watch TV in their rooms.
"In those days the jokes were terrible!" People trying to find tartan paint or skyhooks. Clingfilm on the toilet was a platform favourite, according to Hugh.
"We also had fishing," he said.
"The fish were so abundant in the early days you could just spear them with the upward jab of a bent welding rod.
But there were some great stories.
"There was a guy in the drilling department, who was a great fisherman. He caught this fish and it was so heavy he couldn't pull it up, so he got the standby boat to come in, sent down the basket and get the fish up on deck. The fish was enormous, so he went running to the helideck to get the scales to weigh it. When he did the guys' stuffed nuts, bolts and all sorts of heavy steelwork down this fish's throat.
"The lad said, 'An 85lbs cod! This is a world record'.
"He went straight away and called this fishing magazine to tell them he had this 85lb cod. However when he gutted it, all of the nuts, bolts and steelwork fell out. No record after all.
"The next time when he got the standby boat to come in and help they just cut the head off and sent that up. They kept the rest to cook and eat." Within a month or so fishing had to be banned as Beryl was overloaded with fish and the lines were a danger under the water.
In the early days arrival of the daily newspapers was hotly anticipated.
"Once when I was the OIM, I was walking behind these two guys. There had been really bad fog for about three days and I'm listening to them talking and one of them says to other, 'This is terrible. You would think if they canna get us off they would at least give us the newspapers to read.'
"I said to them, 'If I could get a helicopter here I would get you off. Never mind about the papers.'" How did they think the papers got to the platform?
"There were rewarding moments as well," he said.
"The most rewarding memory was on Beryl B. There was a guy I didn't know and he came to me out of the blue and said, 'This is the best platform I've ever worked on. I've worked on every North Sea platform and this is the best, because everybody here talks to you and is willing to work with you and help you.' On Beryl there was no saying you were a 'Company man' and getting special privileges."
"Working on the North Sea was great," he said.
"I just loved it. More than anything else, it was the people on the Beryl that made it special. They just wanted to do their best. Beryl was all about innovation and the American couldn't believe we could make almost anything. It was a 'can do attitude' everyone had.
"Beryl's utility shaft had eight great, big seawater lifting pumps. After just a few weeks in operation, offshore staff told me they were not lifting water any more. The impellers had eroded almost completely away.
"I called the original manufacturer, who said it they could get new ones, but it would take a year and cost $30,000.
" I couldn't wait a year. I mean you cannot survive on Beryl without water, no drinking water, no cooking, no washing, no cleaning, no flushing the toilets, and the rest, so I looked in the Yellow Pages and found a company called Barry, Hendry and Cooke.
"I went along to see them at the Foundry, where Morrisons supermarket is today just behind King Street. I met this old guy and asked him to make the parts. I drew the impellor on a piece of paper and gave him the remains of an old impellor. I remember him saying, 'That's 'affa complicated, Son. I would need to make a pattern for that.'
"I told him I needed them the next day. It was a Thursday and he laughed and told me if he worked all weekend he could maybe get them to me by Tuesday. I asked him how much it would cost and he said, 'Let me think about it over lunch and I'll phone you back.'
"He phoned me back and said, 'I can make them by Tuesday, but they're too expensive you'll no' want them.'
"I said, 'How much?'
"He said, '£300 and that is just for just the pattern.'
"I asked how much for the parts and he said: 'I don't know how to tell you this, but it's £186 each' and quickly added 'that's fully machined and balanced.'
"I said to him, 'Give me 10 of them by Tuesday!' and he did. With a few more orders they kept Beryl going for a year, until we had impellors in a material suitable for the long term.
"The original manufacturer said they were going to sue us over it and I said, 'You do that and I'll tell the world how bad your pumps were'.
" So we agreed a stalemate."
Despite carving out the North Sea's rich history, Hugh said: "We were just doing our jobs and trying to keep the oil flowing and make the money.
"It was Americans, who were generally my bosses, and they were amazed at how we could make do and mend. We were very inventive. We converted our knowledge and skills from engineering, shipping, mining, and chemical industries to meet the challenges of the North Sea oil industry. We were all young and had such a 'can do' attitude, together we just made it work.
Beryl showed the strength of the Scottish spirit."
And that was just a few snippets from the very early days.
Recommended for you
X

Plexus Holdings agrees £6m placing of shares in bid to raise cash