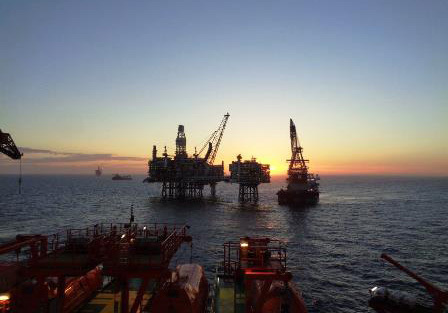 Chevron's Alder project in the North Sea is gearing one step closer to production.
The milestone comes after last year's successful load out and installation of the topsides module onto the Britannia Bridge Linked Platform (BLP).
Both Chevron and its coventurer ConocoPhillips have been focused on executing key subsea and topside work scopes as the drive forward with the field's development.
Alan Leiper, drilling and completions major capital project manager, said:"High pressure high temperature (HPHT) wells require significantly more designing and engineering than conventional wells. For Alder, we leveraged specialised equipment, procedures and technical expertise and experience from other HPHT wells around the globe, including the Gulf of Mexico and Australia."
First production is planned for Alder later this year.
In February, the Alder tubing head spool, equipment used to hang the tubing (smallest casing string) and seal the annulus between the tubing and casing, was delivered from OneSubsea's base in Leeds to their Aberdeen facility and then onto Peterhead, where it was loaded onto Subsea 7's Seven Falcon vessel before being installed in the field.
In addition, the COSL Rival flotel, which had been in field since April 2015 providing additional bed space to support offshore construction activities, was demobilised.
The project continued at pace throughout March, with the load and installation of the subsea protection covers, which guard the developments subsea assets, including the pipeline and umbilical, from dropped objects and interaction with fishing operations.
The master control system, located on the BLP, which controls the Brodgar, Callanish and Enochdhu subsea tie-backs to Britannia, was upgraded to include the Alder development. The upgrade was carried out locally by Aker Solutions, the supplier of the original system.
In collaboration with key vendors, the Alder team also successfully completed an intensive site integration test (SIT) at the Isleburn base in Invergordon, to ensure full functionality of the Alder subsea system, including manifold, control system, subsea isolation valve (SSIV) and vertical monobore tree, prior to load out and installation.
Following the SIT, the SSIV, built by Isleburn, was loaded onto Technip's Deep Arctic vessel in Invergordon and later installed in the field. Earlier this month, the same vessel was used for the load out and installation of the Alder manifold. Away from subsea activities, construction of the Alder topsides nears conclusion, with its overall commissioning approximately 75% complete.
Alder project manager Robert Visser, said: "These are significant milestones and achievements which are a result of years of planning and collaborative effort between Chevron and our coventurer ConocoPhillips, as well as many key contractors. The focus and commitment of all involved is helping ensure the safe and successful progression of the Alder development – which is an important driver of Chevron's future growth plans in the UK"
Recommended for you

Unite and Bilfinger ask workers to stand down from North Sea strikes