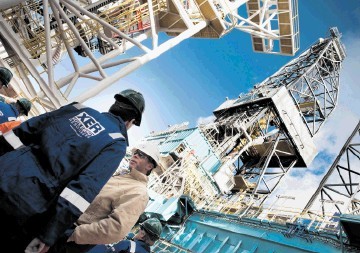 Xcite Energy has won a further stay of execution in its battle to keep funding requirements manageable amid continuing low oil prices.
The North Sea firm said yesterday the holders of senior secured bonds worth more than £100million had agreed to an extension of the maturity date, giving the firm more breathing space to sort out financial arrangements for its flagship Bentley project.
Xcite, which is headquartered in Guildford, Surrey, but has its operations base in Queen's Gardens, Aberdeen, was reportedly struggling to meet its obligations for bond repayments due in June.
Announcing the result of a bondholder meeting yesterday, it said: "The maturity date of the Bonds has been extended until September 30, 2016, in order to continue negotiations."
In March, Xcite insisted it was "continuing to make progress" on Bentley.
It said it had received "indicative proposals" for funding which could pave the way for a first-phase development plan to be submitted to industry regulator the Oil and Gas Authority in 2016.
Talks with the OGA led to the Department of Energy and Climate Change extending the Bentley block licence until June 30, 2017.
The wholly-owned licence was previously due to expire at the end of 2016 but Xcite needed more time to satisfy terms attached to its bond repayments.
Bentley is in Block 9/3b of the UK North Sea, about 100 miles east of Shetland. Its "heavy" oil is more difficult to produce because of its thick, sticky consistency.
Xcite estimates the asset, discovered in 1977, could produce nearly 300million barrels of oil – using enhanced recovery techniques – over 35 years.
The total includes proved, probable and possible extractable reserves out of a total resource of nearly 900million barrels.
Last year, Xcite highlighted ongoing "challenges" – following the slump in oil prices – in securing development partners and the financing required to develop Bentley.