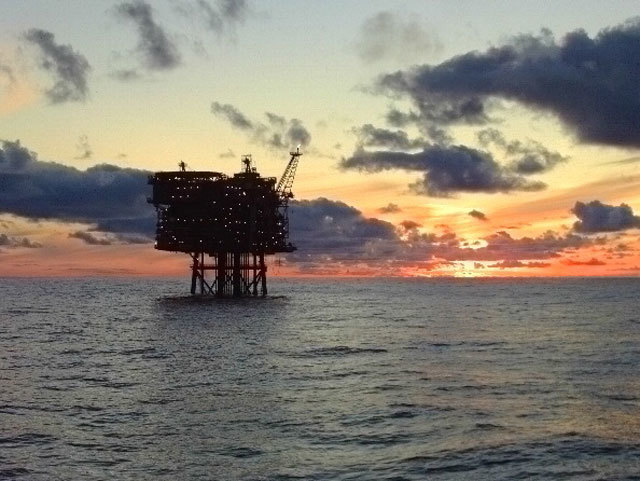 A second Scottish Independence referendum would curb the North Sea's ability to recover, according to sector experts.
Leading voices have said the market uncertainty surrounding IndyRef2 was the "last thing" the sector needed.
Calls to steady the industry's course come after Scottish First Minister Nicola Sturgeon said a shock majority vote to leave the European Union (EU) put plans for second Scottish Independence referendum back on the table.
However, industry veterans have warned a vote would undo any progress the industry has already made to battle sub-$50 oil prices.
Colin Welsh, the head of international energy investment banking at Simmons & Company, said: "The recovery underway is slow and all a referendum will do is undermine that further.
"It would make the North Sea an uncertain marketplace.
"The last thing the North Sea needs right now is more uncertainty."
However, Mr Welsh said he was prepared to call First Minister's bluff, saying a second independence referendum was unlikely.
"I have my doubts that there will be another Scottish referendum, because Nicola Sturgeon is smart enough to realise she's unlikely to win," the financial expert said.
"And if she were to have two referendums and lose both, that's her chances have having one again gone."
He added: "Talking to Europe about remaining in while the rest of the UK exit – how does that work really? Why would Europe want Scotland? What does Scotland have to offer Europe? Actually, not a lot.
"I think the public are just tired of referendums and all this political nonsense."
In a recent poll of 1,000 readers, nearly 60% said they were opposed to another referendum on Scottish independence.
Former Oil and Gas UK chief executive of Oil and Gas UK (OGUK) Malcolm Webb echoed Mr Welsh's sentiment saying a move for a second vote on Scotland's future in the UK would create "serious" consequences for a sector amidst one of its most crippling downturns.
"Brexit itself should not have a very great impact on the UK oil and gas industry, principally because exploitation of indigenous energy resources was a matter for Member States not the EU. Where it did act on issues such as safety and emissions trading arrangements the EU tended not be overly helpful but it had no direct control over taxation or licensing," he said.
"However a break-up of the United Kingdom would have more serious implications for an industry currently needing to follow a steady path to recovery from one of the most serious downturns in its history."
Mr Webb, who also spent three as the director general of the UK Petroleum Industry Association, said IndyRef2 would cast a spotlight on the decommissioning industry – a sector which is laden with "bills not income".
"Furthermore oil and gas operations in various parts of the UKCS, notably in the Northern North Sea, are now in the later stages of their economic life and hence as far as Government revenues are concerned, are likely to become cash flow negative as the necessary decommissioning operations take place," he said.
The fundamentals of the sector, which featured heavily in the first Scottish referendum vote, had "irreversibly changed", according to Mr Webb. The industry is no longer the "cash bonanzas" it once was.
"Even with a strong and fast recovery in the oil price, which I personally think is unlikely, the economics of the North Sea have probably irreversibly changed," the sector veteran said.
"It will remain very important that we maximise recovery of the considerable remaining oil and gas resources but that recovery whilst vital in terms of energy security, balance of trade and employment, will not produce the huge tax inflows to the Exchequer which have occurred over the past half century. The next half century of the UKCS oil and gas story will be more about energy fundamentals than cash bonanzas for the state."
Jamie Stark, oil and gas partner at Burness Paull, said the one overwhelming factor North Sea operators want is to understand is the sector's current "rules of engagement".
"Beyond collaboration and controlling costs, the North Sea is calling out for stability and it is often said that the very thing that makes the North Sea attractive for capital investment is that it is a benign place to do business," he said.
"Operators and investors want certainty, to know what the rules of engagement are, and whatever the arguments may be for an independent Scotland, the call for IndyRef 2 will be of little comfort to those looking for a period of calm at least in the short term."
But who owns oil and how would IndyRef two pan out legally? Find out here.

Recommended for you

North Sea operator IOG to enter administration