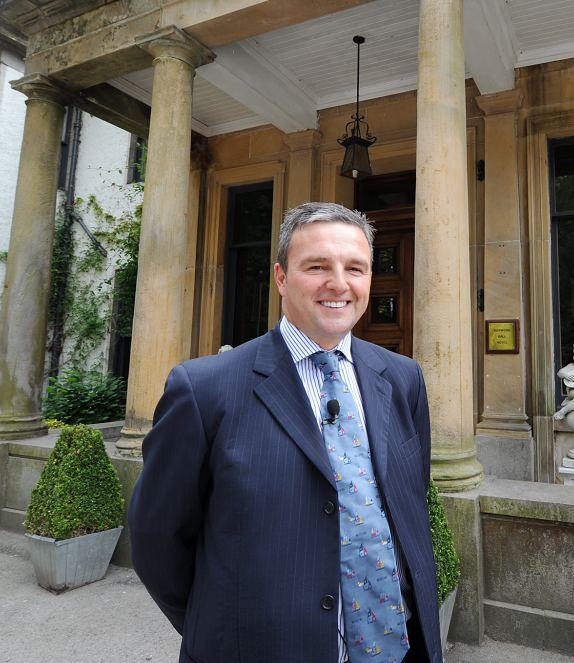 This week Talisman Sinopec formally became Repsol Sinopec Resources UK, reflecting the big changes that have happened in the company over the past couple of years or so. And in the hot seat through much of the transition has been highly experienced Bill Dunnett.
Bill Dunnett has been a part of the North Sea scene for several decades and has served roughly equal time with operators and mainstream contractors.
It is probably precisely because of that broad experience that Talisman Sinopec . . . now Repsol-Sinopec . . . sought out Dunnett and persuaded him to take its top North Sea job a bit over a year ago.
He is nothing if not plain and he made it clear that the business was struggling even before oil prices crashed from mid-2014.
Industry gossip was that prior management had, in effect, lost the plot; the company had to be taken by the scruff of its neck and sorted out.
Bear in mind that:
In mid-2012, Sinopec bought into Talisman's UKCS business.
In mid-2013, Talisman Energy put its Norwegian assets up for sale.
In late 2014, Talisman Sinopec split its North Sea business in two as it sought a "major transformation" of its operations in the face of spiralling costs and ageing platforms and infrastructure. It was said the company would be divided into an operations division holding some North Sea assets and a "late life asset division".
In December 2014, Repsol agreed to buy Talisman Energy in a deal worth $8.3billlion.
And last month, Sinopec demanded $5.5billion from Repsol as repayment for its investment in the UKCS joint venture as well as for so-called lost opportunity, presumably because it has wasted money it would, in retrospect, rather have invested elsewhere.
This can only be described as a recipe for confusion, even workforce bewilderment; hardly the ideal background for any CEO to make his mark and turn things around.
And yet Dunnett seems quietly confident that actions taken are putting the business back on track.
"It was a very challenged business and that is well known," Dunnett told Energy.
"Lifting costs were unacceptably high and there were many other issues besides."
He is of the view that putting the parent Repsol brand to the fore will help the North Sea business leave its difficult times behind and push forward with renewed vitality.
"My main role is to pick up on the work done to date and really push that through, getting the company into an efficient, safe operation, so providing the basis for a long-term future," says Dunnett.
"The first piece was simplifying the organisation and going to an asset-based structure. That was something that we did very quickly.
"It sounds straightforward, but we were shifting from a functional based organisation to something very different; it was a major change.
"What we've done is select people who are passionate about each of the assets and given them independence to run their assets as separate businesses."
But where did that drive to switch come from? After all, various companies have tried this sort of thing in the past, sometimes successfully, sometimes not.
And how much does Dunnett think that his experience as a mainstream contractor influence that decision? Where did it come from?
"It was logical and everyone has bought into it. Our portfolio is primarily mature assets and each has its own set of characteristics. The only way to efficiently and safely run them is to know in very close detail each element of each asset and to involve people very closely associated with those assets.
You tend to find that, even when an asset changes hands, the bulk of the people have a loyalty to that asset and wish to retain a relationship there."
Dunnett thinks this plays to the UK MER objective, achieving optimal production efficiency through close buy-in of the guys offshore. His view is that the approach is a no-brainer.
"Each asset is different with its own set of challenges. And these become more significant as that asset ages. Budgets are finite and have to be managed efficiently; that takes people with the experience needed to know the answers.
"It wasn't a complicated decision."
Each asset group is now underpinned by the common functions that have been re-engineered and brought in-house, including developing a common business management system that's current, really state-of-the-art; plus the new maintenance and production management systems.
"Each asset has a different P/E level; however, best case we've been able to halve our lifting costs in a year . . . we started over the $100 bar in lifting costs. We're now down towards $40. Our goal is to get barrel lifting costs down into the $20s."
But the offshore teams aren't being left to sink or swim by pitting one asset against another. Dunnett says too that issues like technical authority and standardisation of business management processes that underpin offshore have been re-egineered, in some instances rebuilt. This has involved recreating in-house capabilities that had been eliminated/reduced in past years but which are, in his view . . . core, of which more below.
Aside from several assets at the end of their life, notably Saltire and Beatrice, the core portfolio is considered healthy.
"We're looking at long-term, sustained investment," says Dunnett. "We're looking at 15-20 years. We're looking for a significant production increase from this business with fewer assets.
"Next year, we're expecting a 25% increase once we get MAR (Montrose-Area Redevelopment) onstream in Q1 and then further investments in core assets going forward.
"Our position is that the North Sea remains a long-term business. As assets get to late life, we'll be looking at how to operationally move seamlessly into decommissioning, looking at all development options before we stop.
"As for wells, of which we're plugging and abandoning quite a number, we've done 20 on Beatrice alone and that programme continues."
Besides decommissioning, selling of non-core assets is also on the table as an option. Buchan will come off production next year and the production unit will be taken off-station. But it's not as if Repsol-Sinopec is abandoning the reservoir.
"The production facility has reached the end of its life and we will be looking at strategic development of the field, or other commercial opportunities with it; and there are interested parties," says Dunnett.
"However, we do want to simplify and rationalise our portfolio, which also includes the Nigg (Cromarty Firth) and Flotta (Orkney) terminals. With Beatrice shut down we're looking at alternative uses for Nigg.
"We're working with our partners and shareholders as to what the core portfolio should look like; we're investing here in our integrity teams.
"One of the strategic points of this business is that there was too much reliance on contractors and out-sourced skills to consultants and advisors. It was disproportionately high so we're in-sourcing . . . investing in a new technical authority team, specialists in integrity management and we're building core capabilities in maintenance.
"I think it had gone from this company more than from other operators but we're redressing that now. That's why we're bringing in-house, the real key leaders."
As mentioned earlier, Dunnett has walked on both sides of the road . . . starting out with Mobil and then moving to Shell followed by various roles with Halliburton/KBR then Petrofac. Perhaps therefore he is better placed than many North Sea leaders to weigh the pros and cons of in-house versus outsourcing.
"It certainly gives an insight," agrees Dunnett.
Though he expects to be concluding the task of recruiting the 40-45 people needed in-house about now, overall, there has been a big drop in headcount . . . down about 25-30%.
Also, the company has gone equal-time shifts offshore, like many others.
Furthermore, it is tending towards breaking up the major services contracts that have dominated the North Sea model for some 15 years. Repsol-Sinopec is also controlling much more of its technical, maintenance and integrity management scopes.
"We're not going to have just one panacea contract; it's going to be multiple contracts to encourage (supply chain) competition. More importantly, we're also looking for innovation from our contractors. We're really trying to open up this business to innovative ways of working with the teams offshore, which is an important reason as to why we have brought expertise back in-house.
"We've also stuck with several things during this downturn. We're continuing to train and invest in apprentices. But we're also in-sourcing more leadership skills offshore; key technicians too.
"We're building our own staff organisation; there will be more company people in the mix.
"We want greater retention of knowledge and the people who have a passion for our assets to be part of the business. Likewise, we want contractors engaged in a similar manner."
This is in sharp contrast to many other operators where the manning of production units is on occasion totally outsourced.
Dunnett's a hands-on guy and he expects his seniors to be the same. They all have to travel offshore regularly . . . show face . . . fly the flag . . . be accessible. He expects his lead contractors to do the same.
"This is a profound commitment. I've done 10 trips this year. I find it to be some of the most valuable time spent. They can be exhilarating; you get the truth, you get what's really concerning the guys. All the other assets know within minutes when I go out to a platform. We have to be consistent about our commitments offshore."
Well, mostly. There was the small matter of Sky TV being removed offshore. That was recorded by Energy in April 2015. Happily, this creature comfort has since been restored.