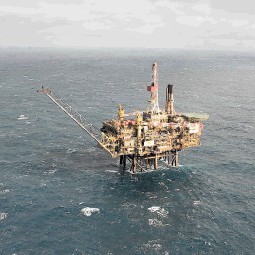 Stocks including fresh water are said to be running out on a North Sea platform hit by strike action.
Oil major Shell said stocks are "running low" as a result of a supply vessel being unable to offload due to the bad weather over the weekend.
However, workers have attributed the low stocks on the Gannet platform to the current industrial action.
Some have claimed laundry services have been shut since the weekend and they have been told to re-use towels and take shorter showers and re-wear clothes due to depleted water levels.
A spokesman for the oil major said: "Shell can confirm that some stock levels on the Gannet platform are running low as a result of a supply vessel being unable to offload due to poor weather over the weekend.
"The supply vessel is currently located nearby and the cargo will be transferred at the earliest opportunity, weather permitting."
It comes on the same day bad weather led to a Transocean rig coming adrift off the coast of Scotland.
Seven platforms in the North Sea have been hit by strike action in the past two weeks in a dispute between Wood Group and workers over changes to pay and conditions.
Negotiations are said to be continuing between the two sides but no resolution has yet been reached.
Further strike action is set to take place tomorrow with two three-hour stoppages.
An overtime ban was put in place two weeks ago and is expected to continue until further notice.
Recommended for you

Petrofac workers on BP assets resume strikes after talks break down