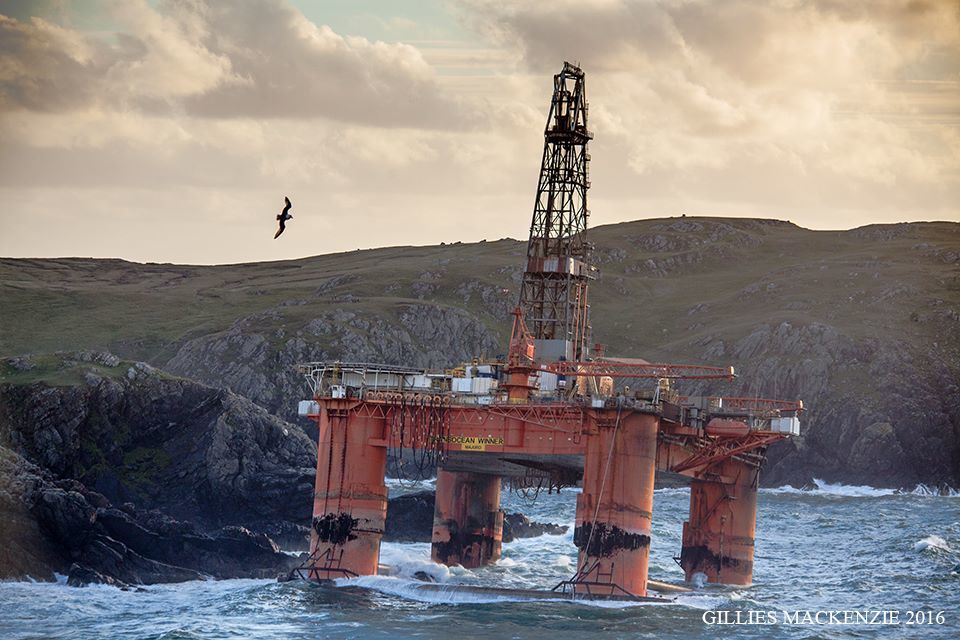 The cost of removing a stranded 17,000 tonne rig off the Western Isles could cost millions of pounds, according to a salvage expert.
Taggart Smith, from maritime engineering company Henry Abram & Sons, said "questions should be raised" over the planning of the journey the Transocean Winner rig took from its original destination in Norway to Malta.
Efforts are being made by a salvage team from both the rig owner Transocean and the Maritime & Coastguard Agency (MCA) to identify how to safely remove it from its current location.
Smith said the incident was "fairly unusual".
He said: "I would say it would be a lot. It's an expensive operation all in at the end of the day, if you look at the equipment they have two or three tug boats on stand-by.
"These types of tugs are expensive and cost tens of thousands per day even if they're not necessarily being put into use someone is having to pay that bill.
"Especially when you consider the day rate, plus you also have a helicopter which is being used to fly the experts out to the rig each day.
"The bill is likely to be in the millions, but how many millions I wouldn't even dare to guess.
"What they decide to do with the rig will come down to cost and what they're prepared to pay.
"I think on that basis it will depend on when they have the right tidal height and that will drive when it would be taken off.
"The tide was high when the rig got caught so the tidal height will need to be greater.
"If it's a straight forward operation it may be a few days before they have the right equipment and they will have to explore all opportunities for removal.
"When you consider something like the Costa Concordia and that took two years to remove.
"Questions should be raised as to how the journey for the rig was implemented and being managed by the project team."
Earlier it was revealed vantage points around the stricken rig which so dramatically ran aground off Lewis have been placed in "lockdown".
Meanwhile, fierce weather forecast has threatened to hamper the salvage of the rig.
Some oil has also appeared to have leaked from the 33-year-old drilling platform Transocean Winner which was being towed from Norway to Malta for scrapping.
Recommended for you

The demise of an E&P star – the sad tale of Pakistan Petroleum