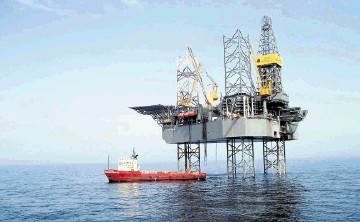 Rowan Drilling is continuing to make changes after it was hit with a Health and Safety Executive (HSE) improvement notice five months ago.
An investigation had been launched after a crane boom collapse, resulting in two pieces of the boom falling to the sea, with the remaining piece resting on its Rowan Gorilla VII rig.
The HSE said following the investigation of the incident which happened in March it had been found there were deficiencies in the "effective control, monitoring and review of preventative and protective measures for safe crane operations".
It was found all crane slew, hoist and boom lever neutral position indents had been "overridden such that they could be inadvertently operated".
The inspection notice added: "LSI G5550 crane cab display units were incorrectly calibrated with the boom angle, crane operators were unaware of the correct upper boom limits, access to control switches in the machinery house were not adequately controlled.
"The port bow crane slew limits had been grossly exceeded causing damage to the crane electrical cables and restricting crane movement and the primary boom limit switch of the port bow crane was overridden."
The incident had also resulted in three of the jack-up rigs six lifeboats being rendered inoperative.
It's understood the Gorilla VII jack-up rig had been operating as an "offshore installation" meaning it was on location at the time of the incident.
The incident comes after another accident involving a crane on CNR's Murchison platform.
A lessons learned report found that it was a "high potential" incident.
The Murchison platform is located in the Northern North Sea, 280 nautical miles North of Aberdeen.
Recommended for you

Union slams HSE on lack of 'serious action' for Buchan Alpha incident