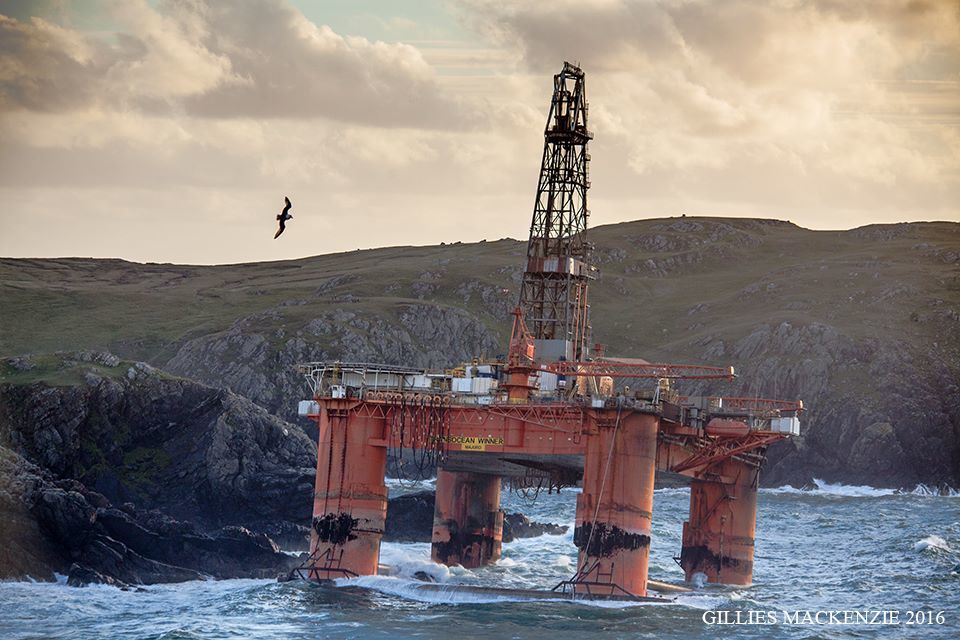 Four additional giant anchors are being laid to secure a 17,600 tonne oil rig which has been refloated after running aground in the Western Isles.
Anchor points will be doubled up with eight heavy weights to hold the damaged structure as bad weather returns to hit the Western Isles from this week.
Strong winds tonight are due to increase to gale force tomorrow. Rough seas are also predicted to affect the islands.
The salvaged Transocean Winner platform is temporarily laid off Lewis after being pulled off rocks in Dalmore on the west coast of the island.
The 33-year-old redundant structure snapped her towline and was blown ashore with 280 tonnes of fuel onboard during severe weather three weeks ago.
Some 25 bottom tanks were gashed and flooded with seawater during the collision with jagged rocks on August 8.
Up to 53 tonnes of diesel spilled into the sea when two fuel storage tanks were ruptured.
Around 195 tonnes of the remaining fuel plus five tonnes of base oil and brine was transferred onto a supply boat before the refloating operation last Monday.
Two large tugs towed the listing rig 54 miles to a safe anchorage in Broad Bay on the other side of Lewis.
To prevent her from sinking a constant flow of compressed air is being pumped into the damaged compartments to force seawater out.
A very small of residual fuel washed out into the sea when the pressurised gashed flooded fuel tanks were additionally pressurised to reduce a rolling motion during the tow, creating a sheen on
the surface, said Hugh Shaw, the UK Government's representative for maritime salvage.
Four huge anchors are attached by heavy chains to the lopsided rig in her temporary location off the village of Shulishader, on the Point peninsula.
But additional weights are required to ensure she does not break free.
Three large salvage tugs babysat the rig while an anchor handling vessel, the MV ER Vittoria, steamed to Montrose to pick them up.
Hugh Shaw said the initial "four anchors came up on the ER Vittoria."
She helped connect them to the rig and once that was done she left, went back to Montrose to collect another four anchors and was coming back out, he added.
"Eventually, the rig will be held on by eight anchors.
"At the moment, we anticipate looking at keeping the rig there until about the middle of September."