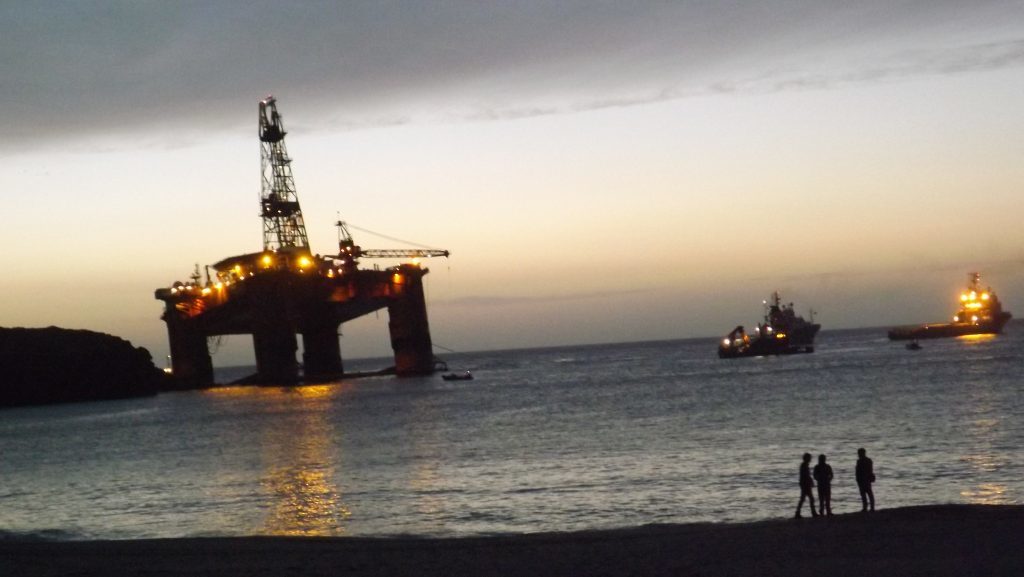 A 17,000-tonne oil rig that ran aground on Lewis in stormy weather is to be moved to Turkey.
The Transocean Winner landed at Dalmore Bay on Lewis in early August after detaching from its tug en route from Norway to Malta.
It was refloated during high tide after three weeks and is now stationed with eight anchors in Broad Bay on the island.
Plans are now being finalised to transport the rig to Turkey as dry cargo, meaning it would be loaded on to a semi-submersible heavy lift vessel for its journey.
The Maritime and Coastguard Agency (MCA) said no date has been set for the move but it is expected to happen by the end of September.
The rig's grounding sparked pollution fears due to the 280 tonnes of diesel on board.
Investigations found two of its four fuel tanks were damaged in the incident which resulted in the loss of 53,000 litres of fuel, most of which is thought to have evaporated with no damage to the environment. The remaining fuel has been safely removed.
Dozens of pieces of debris, weighing up to 200lbs, have also been found at the grounding site at Dalmore, with divers recovering about 40 pieces so far.
Once plans to move the rig have been finalised, a public meeting will be held on Lewis to inform locals.
Hugh Shaw, the Secretary of State's Representative for Maritime Salvage and Intervention, said: "From the onset, our aim has been to keep the local community fully aware of our future plans and intentions.
"Given the level of interest, we will be more than happy to have the key players explain how the next part of the operation will be managed."