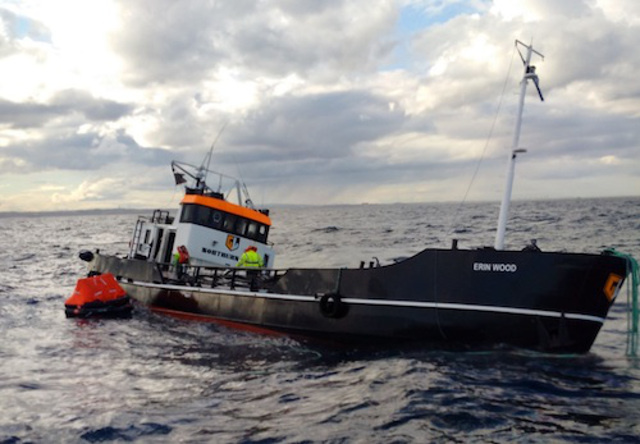 The final outcome of an investigation into a collision between a bunker barge and a cargo ship in the North Sea will be revealed in the coming weeks.
The Marine Accident Investigation Branch (MAIB) said its assessment of the incident on August 29th last year has focused on a number of aspects including safety management and emergency
response.
On the night of the incident last year, the St Kitts and Nevis registered bunker barge, Erin Wood, had departed from North Shields in England.
At the time it was fully loaded with 130m of marine gas and oil which was destined for Scrabster.
According to the report, the Cyprus registered vessel, Daroja, sailed from Aberdeen and commenced passage to Lerwick in Shetland the following day.
Both the cargo vessel and bunker barge were 4 nautical miles south-east of Peterhead but "neither watchkeeper was aware of the other vessel approaching".
The two collided with damage to the Erin Wood including breaches of the hull which led to "significant flooding" of the vessel as well as pollution from the leaking fuel cargo.
The Daroja suffered minor indentation damage to its bulbous bow.
The report said: "Once the situation on board Erin Wood was under control, it was towed to Peterhead by the trawler Ocean Endeavour, Daroja also proceeded to Peterhead.
"Both vessels were subsequently inspected by the Maritime and Coastguard Agency, approval was given for Daroja to proceed back to sea, however Erin Wood was detained due to the level of damage sustained."
The investigation has been looking to determine the causes and circumstances of the collision.
Focus has been on actions necessary to prevent recurrence, safety management systems and the emergency response.
It has also been assessing bridge watchkeeping routines on board both vessels and the reasons why detection opportunities were missed.
A draft report is now expected to be with key stakeholders in the next two weeks.