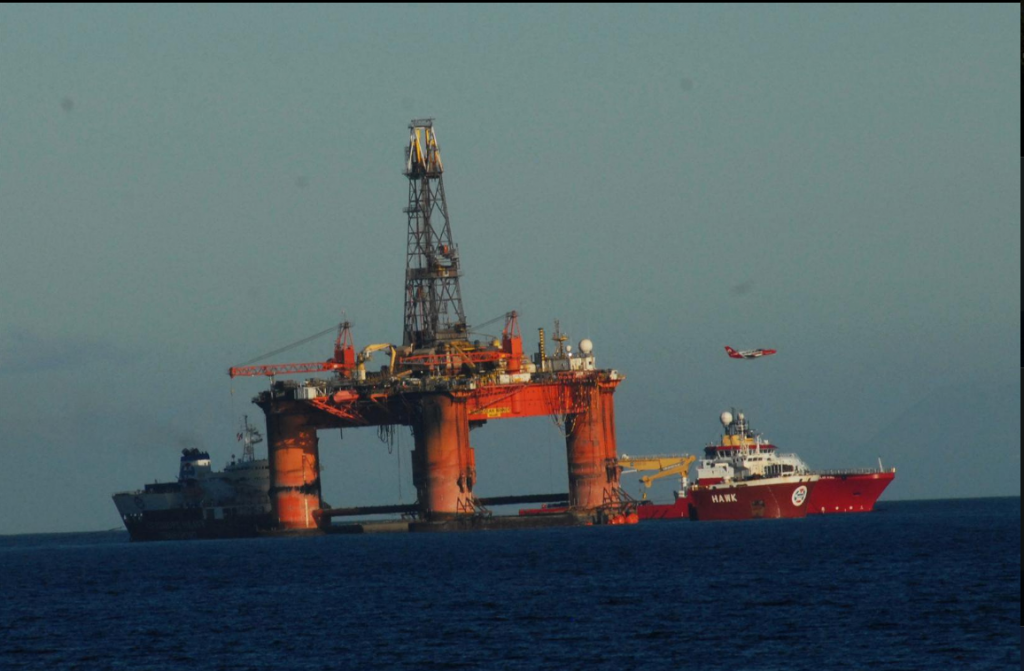 The Transocean Winner rig has finally been moved on to the deck of a semi-submersible transport ship after weather delayed its move.
The rig ran aground in August off the Isle of Lewis as it was making its way from Norway to Malta.
It was floated on the deck of the HAWK on Friday.
The next phase of the operation in Lewis is expected to be fastening it to the ship for its journey to Malta.
Earlier this week it was expected weather would be "favourable" enough and an "excellent opportunity" to remove the rig.
A statement from the Maritime and Coastguard Agency (MCA) said: "The MCA verification aircraft was on scene yesterday and no pollution was sighted or reported. However late yesterday some leakage was spotted in the water – this is believed to have been a maximum of 50 litres of hydraulic or gear oil. It's thought to have come from a damaged part of the rig and appropriate counter-pollution measures were taken.
"A further check flight by the MCA aircraft today over the Hawk and the wider area across Broad Bay has found no further oil.
"Vessels with counter pollution equipment will remain on scene until there is no longer any threat of a release from the damaged sponsons.
"Preparations are being made today to commence the sea fastening operations, Assessment of the damage has begun today and other work is starting to prepare the Hawk for her passage to Malta.
"This could take four or five days to be completed."
The 33-year-old redundant structure snapped her tow line and was blown ashore with 280 tonnes of fuel onboard during severe weather on August 8.
After being salvaged off rocks, the platform was towed to a temporary anchorage in Broad Bay on the other side of the island.
Around 27 fuel tanks were gashed and flooded with seawater during the collision making it too hazardous to continue her tow to a scrap yard in Turkey.