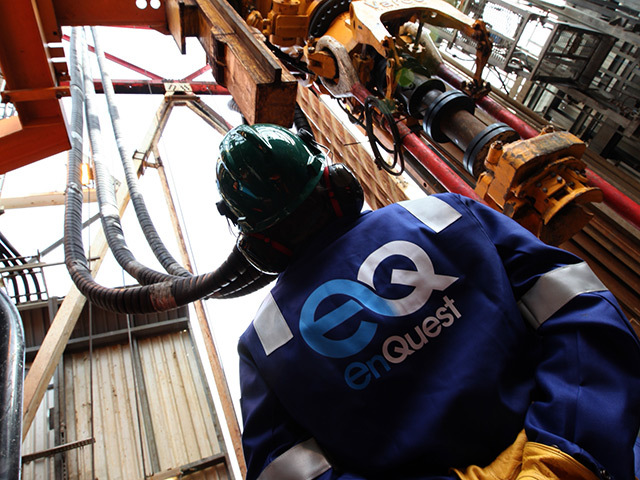 EnQuest said it plans to launch a proposed issuance of equity through a placing and open offer deal which could raise £82million.
The company said the move is part of proposed financial restructuring of the group which has been agreed to with its key stakeholders following "extensive" negotiation.
A bookbuild is expected to open with immediate effect and the timing of this will be at the discretion of JP Morgan and Merrill Lynch.
EnQuest said it believes restructuring will provide the firm with a stable and sustainable capital structure.
The cash will be used to continue the development of the kraken asset with the aim of achieving first oil next year and to press=on with plans for its Scolty Crathes asset.
Jock Lennox, chairman of EnQuest, said:"We are very pleased to announce today a comprehensive package of measures to place EnQuest on a strong footing to deliver our Kraken development in H1 2017 and ensure that we are well placed to deliver value to our shareholders in the medium term.
"Over the last two years, EnQuest has taken action to implement extensive cost saving programmes to refocus the business for the low oil price environment, including reducing and re-phasing both capital and operating expenditures.
"Simultaneously, EnQuest has been working on a range of other funding and liquidity options, which culminate in the Restructuring announced today. We have agreed a range of improvements on the terms of our debt facilities and we remain grateful to our RCF lenders for their continuing support. We have also reached agreement with approximately 61 per cent of our High Yield Noteholders on the Proposed Note Amendments.
"The proposed Restructuring, which encompasses amendments to EnQuest's existing RCF facility, amendments to the High Yield Notes and the Retail Notes, the renewal of the Company's Surety Bond Facilities and the Placing and Open Offer which is expected to raise £82 million in gross proceeds, will significantly improve the liquidity position of the Company so that EnQuest can deliver first oil from the Kraken development in H1 2017 in accordance with management's projections. The Kraken development continues to be on track with the FPSO set for sail away in H2 2016.
"The board remains confident in the long term potential of the EnQuest business plan, and is of the view that the proposed restructuring, including the placing and open offer, will enhance value for all stakeholders."
Recommended for you

EnQuest hires rig to return Kraken oilfield to drilling in 2025