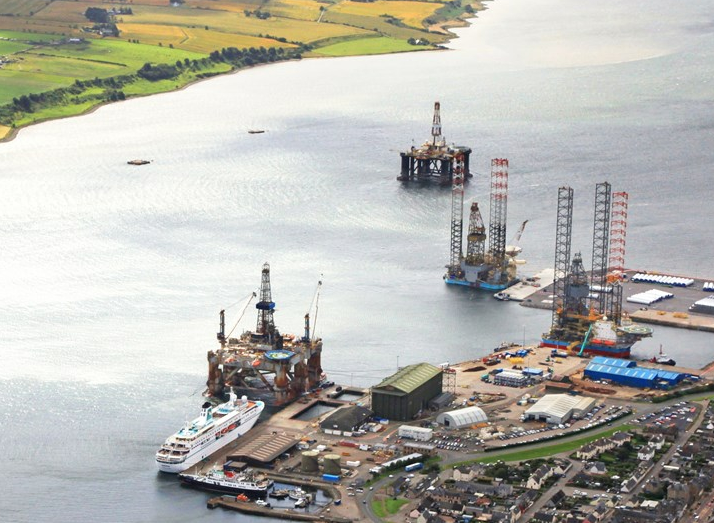 Profits dived at Danish conglomerate Maersk in the third quarter despite strong showings from its oil and drilling businesses.
The group, which recently revealed plans to split into separate transport and energy companies, said its oil division's break-even had been reduced to below $40 a barrel for 2016.
Drilling on the company's £3billion Culzean field started in the North Sea in September.
The field was hailed as the biggest find in the UK North Sea in a decade when it was discovered in 2008, with resources estimated at 250-300million barrels of oil equivalent (boe).
But the group said it had continued to be "significantly impacted by market imbalances, leading to sustained low container freight rates and a low oil price environment".
Group pre-tax profits totalled £593million, down 32% on the same quarter last year, while revenues dipped 9% to £7.5billion, as its terminals and shipping businesses struggled.
Maersk chief executive Soren Skou said the group's underlying profit of £345million − a 36% drop − was "unsatisfactory, but driven by low prices".
Profits at Maersk Oil increased by more than 350% compared to the third quarter 2015.
Entitlement production stayed roughly flat on 295,000 boe per day, while exploration costs were 30% lower year-on-year.
Maersk Drilling also enjoyed a sharp increase in profits, bolstered by an early contract termination fee of £170million for the Maersk Valiant.
Its Maersk Highlander rig is carrying out the drilling programme on Culzean, which lies about 145 miles off the coast of Aberdeen.
Mr Skou said: "For the second quarter in a row Maersk Oil delivered a positive result driven by strong cost performance and production efficiency.
"Also Maersk Drilling delivered strong profits, driven by termination fees and good cost performance."
The group stuck to its guidance for fully-year underlying profits "significantly below" last year's £2.5billion.
One the group's reorganisation, Mr Skou said: "The implementation of the new strategic direction and the restructuring of the group is progressing, and we look forward to sharing further details at the capital markets day on December 13."
Also yesterday, Maersk said it had sold 16.2million shares in Danske Bank at a price of DKK 200 (£24.29) per share.
The placing leaves Maersk without any shares in Danske Bank.
Maersk said in February 2015 that it would divest its stake in the lender to focus on other areas of the business.
Recommended for you

Maersk Drilling contracts slide but market recovery in full swing