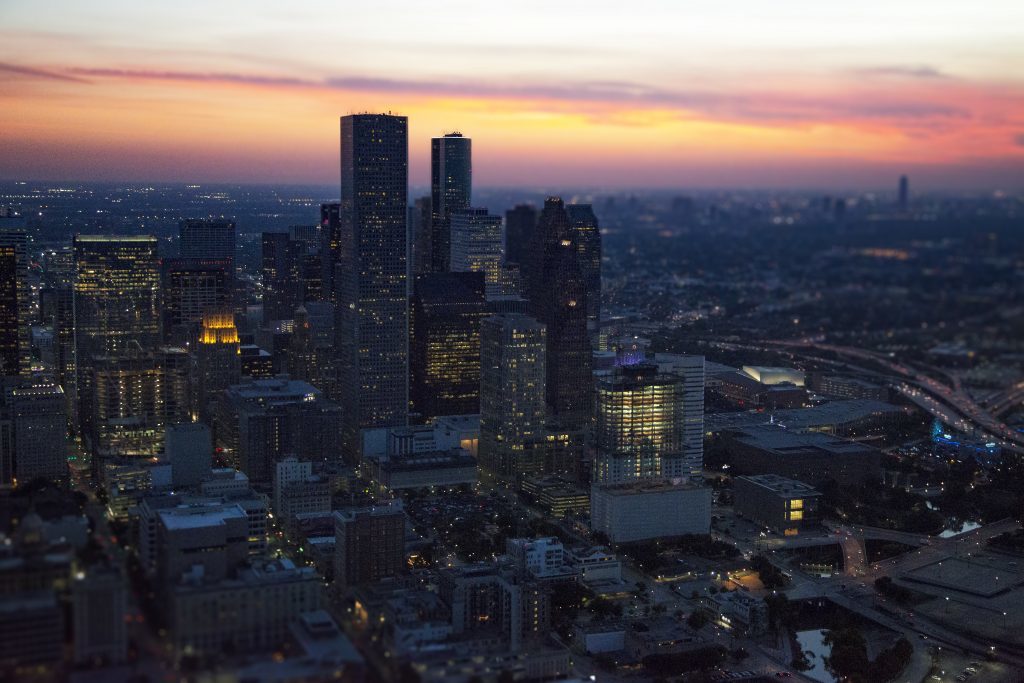 Houston's top economist has called bottom of the city's energy downcycle.
However, despite the city putting the worst behind it, the economy expert warned the sector against hoping for any kind of "basketball bounce".
Patrick Jankowski is the senior vice president and the research and regional economist for the Greater Houston Partnership. He has been studying the region's economy for more than 30 years.
"In Houston, we've gone from a period of explosive growth, where we were creating close to 120,000 jobs a year to where we got down to just 3,000 jobs," he said. "And now we're back up to about the 20,000 mark.
"It looks like for Houston the worst of the downturn was the second quarter of this year.
"That doesn't mean we're going to boom again though – at least for not quite a while.
"I describe the bottom of the downturn for Houston as being like a sponge. It's mushy and if you squeeze it there's still going to be some stuff that comes out.
"We would like it to be more like a basketball on a court, where you get a nice bounce, but no, we're not going to get a nice bounce out of this. It's going to be quite mushy for a while."
To appreciate how hard the sector fell you just need to look at 'For Rent' signs on the commercial marketplace, according to Jankowski.
"We date the decline to Thanksgiving Day 2014, because that's when OPEC met and when OPEC decided they were not going to cut production to maintain prices," he said. "They were going after market share. Oil prices had been slipping prior to that, but when OPEC made the announcement, oil prices plummeted.
"We have seen significant layoffs in the oil and gas industry here. And the oil and gas industry in Houston consists of different segments. We have exploration and production, oil field services, oil field equipment manufacturing, the manufacturing of oil field metal products and then engineering. And there's this small component of contractor workers. If you add all that together, we've lost close to 80,000 jobs.
"That's a huge loss – 80,000 jobs. And not only have we lost the 80,000 jobs, but they were all well-paid jobs. Every one of those jobs, with the exception of the contractor workers, all of those other segments paid on average $70,000 or above.
"There's an expression out there that 'the closer you are to the drill bit, the more your job is at risk'. And we saw the first wave of layoffs occurred in oil field services and oil field equipment manufacturing. The second wave of layoffs occurred in exploration and production.
"That was the impact on the oil and gas industry.
"If you step back from that, the oil and gas firms started saying, 'well, if we aren't going to manufacture anything we're not going to need this industrial space'. We started to see a pick up in the available industrial space.
"But the biggest impact has been on the office market. The Houston office market is a pretty large market. I mean there are 210 million square feet of office space. At any one time, we will have three million square feet of sub-leased space – or space that companies are legally contracted to pay the rent on, but they don't need it so they're trying to find someone to lease it from them.
"Right now in the market we have 12 millions sq ft of space and it's all subleased space from the oil and gas industry and some from engineering."
That growth in commercial office space up for grabs mirrors a similar trend in Aberdeen. Baker Hughes most recently put one of its North Sea bases on the marketplace.
Jankowski added: "And what that tells me is that these energy firms two years ago thought they were going to need this space and thought they were going to continue to grow.
"But they look at their long term needs and think, 'we're not going to be hiring for quite a while, so we're going to put nine million square feet of space on the market'.
"It's driven the vacancy rate in Houston. If you didn't have the oil subleased space, only 15% of all the space of the Houston would be vacant, which is not too bad. But you add the subleased space and we have 22% vacancy rate, which is really high by historical standards.
"And when you have all this subleased space that tells me we're not going to be needing to build any office space for quite a while. We need to take up the subleased space first before we build new, and that will have an impact down the road on construction employment. The guys who make their living designing and building office buildings aren't going to have much work for the next few years. There's the ripple effect that they're not going to have the income, so they won't be buying the Mercedes or the Audi. They will be buying the Ford and Chevy."
The ripple effect is already being felt at Houston's car dealerships. Car sales for Houston-area dealers fell from a high last year of 294,076 to 227,507 this year.
Retail sales in Houston peaked at $30.4billion in fourth quarter of 2013. The fourth quarter of 2015 – a year into the oil decline – peaked at just $26.5billion.
Houston's rig count reached an all time high in September 2014 of 1,931 rigs. In May of this year, the rig count fell as low as 404 rigs – a near 80% drop.
September of this year saw a 75% drop in wells drilled compared to 2014, according to Jankowski.
"We have seen the trickle down," he said.
"If you look at the actual impact on income, in the first quarter adjusted for inflation it's about $3.4billion in revenue we've lost on income based on the downturn of the oil and gas industry.
"When you're worried about losing your job, most rational human beings don't go out and buy a new car. They decide we'll just drive the clunker another year to two to see how things work out. So it has had a ripple effect throughout the economy."
OPEC's agreement will do little to speed up spending, according to Jankowski.
"Even if an OPEC agreement holds and even if oil prices stay firmly above $50 a barrel we won't see a boom in employment, we won't see a boom in drilling activity and we won't see a boom in any of the other sectors energy dominates. The energy industry is going to be very reluctant to hire at the rate they were hiring in the past. And it's going to be very reluctant to take back the space that they have on the sub-leased market. The balance sheets were so damaged in the downturn that they need to continue to repair them before they start hiring again and do some serious drilling.
"One thing we have that has benefited us the last two years is this huge build-up in the petrochemical market. It provided $52billion worth of construction. That has helped keep us afloat. The concern is that it will start winding down at the end of next year. If we don't see oil and gas prices pick up significantly, the economy will really struggle, but I think this time next year oil prices will be pretty firmly in the mid-$50s, even without an OPEC agreement."
But Jankowski's biggest concern isn't the numbers. It's the people.
"This has gone on for two years," he said.
"People haven't stuck around for two years hoping they would be hired back. The lucky one are the ones that were laid-off early in the cycle. They've gone somewhere and found work somewhere else. Maybe it's in construction. Maybe it's in Michigan. Those guys are not going to come back to Houston because Baker Hughes or Weatherford or Halliburton has some orders. Those guys got burned. That's the danger. It's not the companies. It's if these companies got a significant amount of work, where would they find the workers?
"The last really big downturn we had was in the 80s. You really can't compare that downturn to this downturn for Houston as a whole. For Houston in the 80s it was an energy bust, it was a real estate bust and it was a banking bust. It was those three things that made it so bad for Houston. This one has manly been an energy bust driven by prices.
"There were a lot of people who remembered the 80s and didn't get too far out ahead of their skis.
"But when you have a downturn like this you let people go on either end. It's the people closest to retirement. You offer them a package. And the people who are right out of college with very little experience – they get let go.
"I talk about my son who is in his early 30s. None of his friends got laid-off and they're all in the oil and gas industry. But the people who joined after them were let go and the people who were there before them were let go.
"We may see a repeat of what we saw going into 2009, where there's no hiring for long time and you have this big glob of people in this same age bracket, who run the industry. And you get a situation where the industry looks around and says, 'who are we going to hand the industry off to? We haven't hired anybody'."
So where does he think Houston will be in 12 months' time?
Jankowski said: "In 2013 and 2014, if you looked at the numbers, we were adding 300 to 400 jobs each month to the industry. Now when you look at the numbers we might be adding 50. The layoffs were in the thousands. The rehires are going to be the hundreds.
"There'll probably be more mergers, there'll be a few bankruptcies but things will have stabilized by then. People have already accepted that oil is not going to trade a $100 a barrel. They will be more comfortable with oil at $50 or $60, and we still keep plugging along.
"I started studying this economy in March of '81. This is my fifth downturn and I know before I retire I will have at least one or two more. Hopefully not this severe."
Recommended for you

Shell's Malampaya divestment stalls as political support crumbles