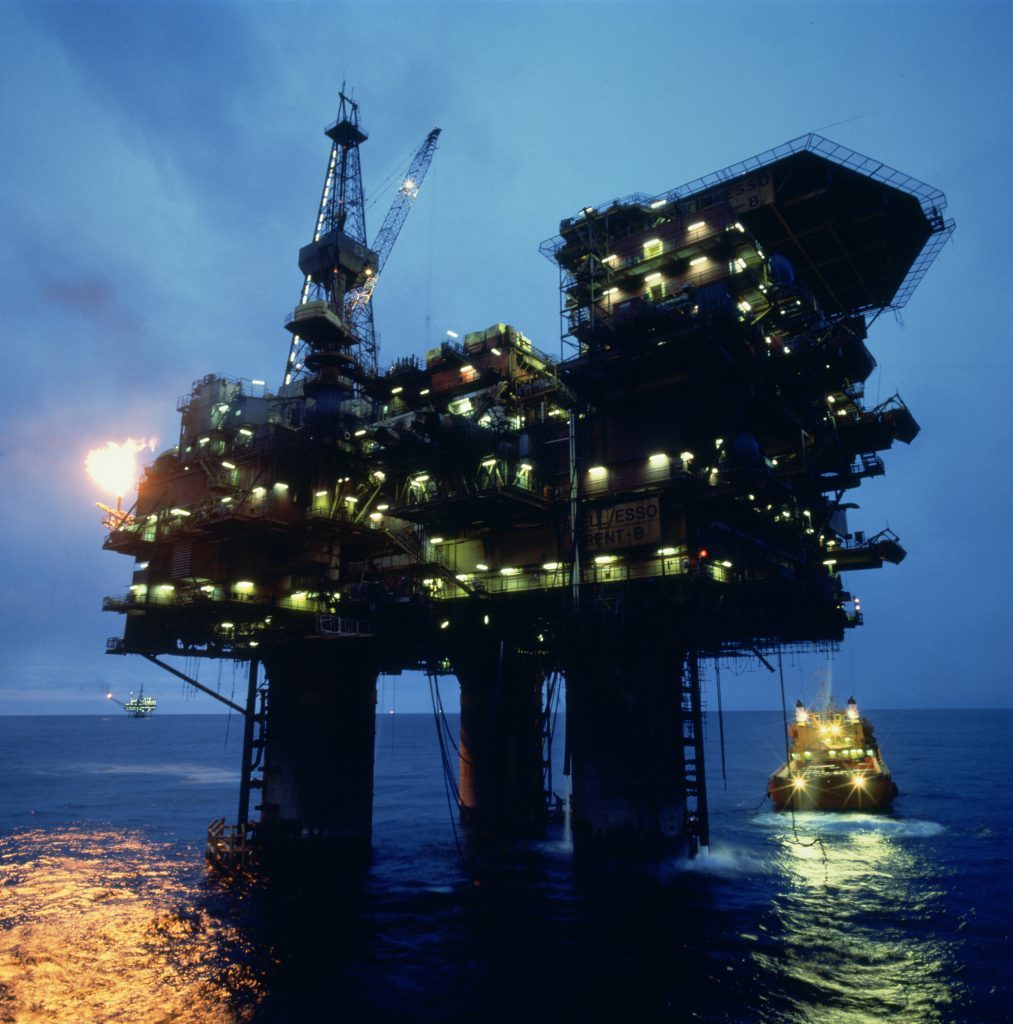 The Oil and Gas Authority (OGA) today hailed Shell's 40 years of Brent as a "tremendous" North Sea milestone.
Chief executive Andy Samuel praised the field's contribution to the UK, but insisted its journey was not yet over.
"Forty years of the Brent field is a tremendous achievement for Shell and its partner, Esso," he said.
"It has contributed significantly to the UK's economy, supported thousands of jobs and provided energy security for the nation. The journey is not finished yet. As we look to the next phase of the UKCS, underpinned by the MER UK Strategy, there are valuable lessons to be learned from Shell's innovative approach to late life asset management and the subsequent decommissioning of such wells and platforms."
Shell drilled Brent's discovery well in 1971 – 186 kms north east of Lerwick. The next year the discovery was officially announced.
In 1976, Brent Spar and Alpha's jacket were installed. Brent Bravo began production on November 10, 1976. In December, the first tanker loads crude from Brent Spar arrived.
In 1977, a pipeline from the Brent Field to St Fergus in Scotland was completed. It was the world's largest single welded pipeline at the time.
In the 1980s, the Brent Field was consistently producing more than 400,000 barrels of oil equivalent a day – enough oil in a year to provide energy to more than 12 million homes. In 1982, production peaked at 504,000 barrels of oil per day. The one billionth barrel of oil was produced from the Brent Field in March 1987.
By the early 1990s, the Brent Field was supplying 13% of the UK's oil and 10% of the UK's gas needs. In the mid-1990s, Shell started an ambitious project to convert the field from a majority of oil production to one focused predominantly on gas. This cost £1.2 billion and provided jobs for more than 3,000 people.
In the late 1990s, Brent underwent what was at the time the world's largest oil field depressurisation. It remains one of the largest engineering projects ever undertaken in the North Sea.
In 2000, the Brent Field was externally benchmarked as the highest-performing North Sea field. It was also internationally recognised as leading in the management of its facilities.
By 2001, the Brent Field was yielding record levels of gas production; 25.5 million cubic metres per day. Its total oil and gas production reached 700,000 barrels of oil equivalent per day. The redevelopments, planning and commitment of everyone cemented Brent's historic importance in the UK sector of the North Sea. Its iconic name later became the oil benchmark that is used to price two-thirds of the world's internationally traded crude oil.
Brent Timeline:
1971: Shell drills discovery well 186 kms north east of Lerwick, Shetland Islands
1972: Discovery of the Brent Field announced
1976: Brent Spar installed, Alpha jacket installed, Brent Bravo begins production Nov 10, Dec first tanker loads crude from Brent Spar; Brent Delta installed
1977: A pipeline from the Brent Field to St Fergus in Scotland was completed. It was the world's largest single welded pipeline at the time. Mossomorran pipeline built
1978: Alpha production begins
1979: Brent crude pumped to Sullom Voe via Alpha. Western leg pipeline between Brent Bravo and Cormorant Alpha completed
1981: Brent Charlie production starts
1982: First gas from Brent received at St Fergus; Brent Field production peaks at 504,000 barrels of oil, and 26.6million cubic metres of gas per day
1987: Brent produces 1 billionth barrel
!991: Brent Spar ceases operating. 1991-1994 planning/studies for best way to decommission Brent Spar
1993: £1.2bn investment in Brent Redevelopment announced switching from oil to gas production
1994: Brent Spar decommissioning programme submitted and approved by government, but subsequently withdrawn due to public reaction
1995: Brent Bravo resume production after redevelopment
1996: Brent Charlie is redeveloped within the year; stakeholder engagement begins in London on decommissioning plans for Brent Spar
1998: The proposal of for Brent Spar to be reused as quay in Norway
1999: Work begins on the new quay, stakeholder engagement comes to and end
2000-2001: Brent Alpha drills 23,000ft well
2001: Brent Field celebrates its Silver Jubilee; first female OIM in the UK employed
2006: Brent Decommissioning Project established
2007: Shell sets up the Independent Review Group (IRG) to objectively review all the scientific and engineering methods used to decommission Brent; stakeholder meetings begin for the decommissioning of Brent
2008: Stakeholder events held in Aberdeen and London
2009: Brent E-news (electronic newsletter) established; stakeholder events held in London and Aberdeen
2010: Stakeholder events held in London and Aberdeen; WoodGroupPSN awarded contract to supply support for decommissioning on Brent Delta
2011: Environmental Impact Assessment document made available defining the scope of the decommissioning project; Production on Brent Delta is stopped; stakeholder events held in London and Aberdeen
2012: A Cell Management Stakeholder Task Group (CMSTG) is formed allowing stakeholders an in depth insight into cell contents options
2013: Stakeholder events are held in London and Aberdeen to allow stakeholders to discuss the emerging options and recommendations; The contract is awarded to Allseas for a Single Lift Vessel to remove and take to shore the Alpha, Bravo and Delta topsides, and the Alpha jacket, for recycling
2014: Able UK in Hartlepool are awarded the contract for the reuse and recycle of the Delta topside, with the aim of recycling 97%; Brent Delta is declared hydrocarbon free; Alpha and Bravo cease production
2015: The Decommissioning Programme for the Brent Delta Topside goes through Public Consultation and is approved by the UK Regulator in July.
2016: There are two stakeholder public talks held in London and Aberdeen, in partnership with the IMechE, to present the decommissioning recommendations for the Brent Field Decommissioning Programme
Energy Voice has teamed up with Shell to celebrate 40 years of Brent. This promoted series will examine the people, milestones and technology that helped make this historic North Sea find possible. It will also analyse what lies ahead for the breakthrough discovery. Happy 40th Brent!
 To celebrate and capture the rich history of Brent, Shell is commissioning an e-memory book and an oral history project. If you have an unforgettable Brent story, or have an old photo or memory you would like to share, you can submit them at www.shell.co.uk/brentmemories. The oral history project will be interviewing a selection of candidates from a variety of roles and years to record the highlights and uncover the less widely known stories from the last 40 years. Digital recordings will be donated to The University of Aberdeen who will share these stories with anyone who is interested, from family members and researchers, to students and the public. Please contact Brentinfo@shell.com if you would like more information about these projects.
Recommended for you

Campaigners claim 'death blow' to Cambo oil field as Shell leaves project