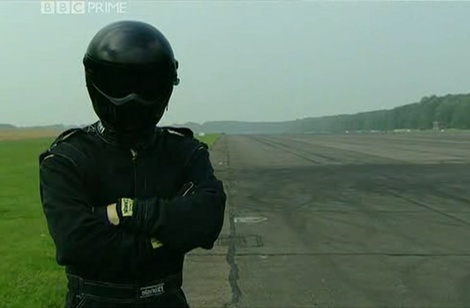 It was sheer determination and hard work which led to a career in Formula 1 racing – but it was a stint on rigs in the North sea which helped the original Stig from Top Gear launch his career.
Perry McCarthy was only 18 when he began working 12 hour days in the Dutch section of the North Sea in 1979.
At the time, his ambition was solely directed at getting into motor racing but it was the easy money working in the oil and gas industry which helped him fund his dream.
The sportsman spoke to Energy Voice yesterday before taking to the stage at the Offshore Decommissioning Conference in St Andrews to tell the 400 delegates about his career.
He said:"I worked in the North Sea, off the Dutch sector. I worked for Pennzoil, BP and Shell. There was no talent involved in my going offshore. I worked for a corrosion control company. So first off, I was involved in scaffolding which gave us access to what was needed to first of all, shock blast the surfaces, shock blast the old coating system off those surfaces and then to have a new spray put on them to protect the metal.
"I went and got the job and would work three weeks on, three weeks off. The longest I was offshore was a month. I'm fully aware that nowadays, regulations probably wouldn't have that.
"It was an absolute means to an end. You have to remember, that the jobs I had were very, very mundane, so it wasn't intellectually stimulating unless you're really into blasting a piece of metal back to what was called SA-3. It was dull, monotonous work, interspersing that with being at college. While all my friends were having a whale of a time I was stuck in the freezing cold working between 12 to 16 hours a day, seven days a week.
"However, nobody held a gun to my head to do it and it was a good way to make as much money as I possibly could so I could go motor racing.
"I was 18 when I went offshore through to just on 21. In that time period I saved about £20,000. In motor racing there's an awful lot of championships at the ground roots level. I had the intention, the only reason I was doing motor racing was to be the best. The only reason I was going motor racing was to get to Formula 1. The place to start was to come in to a Formula called Formula Ford 1600."
McCarthy said the competition was the recognised "proving ground" for future Formula 1 drivers.
He said to make an impact you had to join a professional racing team as well as entering the competition.
Entering the sport, he was racing against people who had been on the map for 10 years before him, racing since they were youngsters.
He jokes his ability to come in with the same level of confidence was helped by "stupidity" as he hadn't quite worked out how much more experience the other competitors had.
"I just did have the confidence and belief that there was something in me that could actually do this. Coming in like that, you have no choice but to make an impact immediately, or see you later, like so many others who have attempted to do it.
"I immediately had success,in my first six races, coming off the street as it were, I set three pole positions in the championship and then the following year I competed in the full year and won the championship.
"It was a case of knocking on doors, trying to get sponsors, writing to companies – whatever it took to get to the next stage of motor racing.
"There was occasional trip back to an oil rig just to top up on some money," he added.
McCarthy said he could understand the challenges for those working in the oil and gas industry currently, particularly those who have faced redundancy.
He said: "One of the things I completely understand, is rejection because day in, day out and week in, week out, people were not sponsoring me and without that sponsorship which is the life blood of continuing to progress one's career up the international ladder, you're going to a has-been before you were even a was.
"I've been through that, of saying these are the barriers, they seem insurmountable and maybe for some people they are.
"My own approach to this was relentless. Absolutely, completely relentless. That is why I was on the rigs in the first place because I saw that was an avenue and one path I could actually start getting things together to get where I wanted to go.
"Sometimes, I personally equate life to little zig zags. Maybe you have to do something that isn't first choice, in order to reposition and get to the next chapter of where you want to go. People who can't get jobs and have been applying etc, they've got three fundamental decisions – quit, continue what they're doing and hopefully something will happen, or increase their effort and their span of vision on what they want to achieve and then to maybe see if they increase their own odds by working even harder.
"But you're going to have some people who say 'oh I'm working as hard as possible'. I tell you a lot of people give themselves that.
"This takes imagination, creativity and it is absolutely the will to win.
"How much do you want something and how much are you going to do to make sure that happens?
"Life is always hard, it always has been and you can pretty much be sure that anything worth having isn't easy."
He said his career has been full of many highlights, including his stint on the first two series of Top Gear, as well as his time in motor racing.
When he joined the Top Gear team he said none of them had appreciated how popular the Stig would turn out to be.
McCarthy said:"We started it in 2002 and I left the show towards 2003. I was busy racing for Audi, testing and training and travelling and also, I wanted to renegotiate my position with the BBC and they didn't want to do that.
"So, no big deal it was, in my consideration, time to leave. It ended up being a really cool thing to do. Of course, when we first started, we had no idea how big Top Gear would become and of course we had no idea how big the Stig would become. To have been the first one was loads of fun and I'm very fortunate because of it.
"Formula 1 was tough. The team I signed for, it was everything I had worked for and dreamed of and finally to get into Formula 1 and it was absolutely wonderful but it is a matter of record that the team I was with are probably the worst team to ever line up in Formula 1 so that was heartbreaking.
"I had come directly from America where I had been in pole positions leading everything all looking good to then be like Muttley.
"There were lots of highlights in my career, if there hadn't of been, I wouldn't have progressed through motor racing as I did. I never took anything for granted and I think a career highlight and maybe a life highlight is when I was in desperate trouble there were certain people and some I didn't even know who stepped forward to help because they could.
"I will always remember that generosity, because I think they recognised I was somebody who was leaving no stone unturned and I do think in life when I see people like that, I'm inclined to help as well.
"That's probably more philosophical than saying my win at Silverstone. There have been plenty of wins, plenty of pole positions, plenty of fabulously fought races with some great drivers but I look at the whole thing."
Recommended for you

BBC documentary to address 'fight' over North Sea oil amid climate action