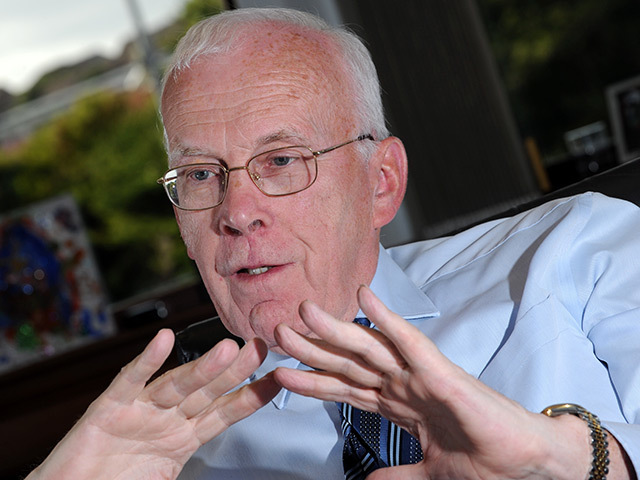 Industry leader Sir Ian Wood has hailed Aberdeen's City Region Deal as a "vote of confidence" from Westminster and Holyrood in the potential of key industries.
The chairman of Opportunity North East (ONE) made the remarks as the deal was launched with the official signing of the £250million agreement in Aberdeen.
The former Wood Group chief executive said there was strong support from all parties to "build a broad and vibrant economic base" which will support the region past the North Sea oil era.
Sir Ian Wood was joined by UK Government Minister Lord Dunlop and Keith Brown MSP, Cabinet Secretary for the Economy, Jobs and Fair Work,Aberdeen City Council Leader Councillor Jenny Laing and Aberdeenshire Council Co-Leader Councillor Richard Thomson to sign the landmark document.
He said:"Today marks the transition to a new and exciting phase with the first of the innovation projects, The Oil & Gas Technology Centre, up and running with its funding in place. This signals the ambition and pace of action needed to deliver projects that will contribute to resilience and growth in our economy.
"Transitioning Aberdeen from a centre of operations in offshore oil and gas to a globally-recognised leader in mature basin technology via The OGTC will anchor at least some of our supply chain post the North Sea.
"The two innovation projects for food, drink and agriculture and life sciences will likewise significantly enhance the long term potential for these industries to make a significant contribution to our economy."
The terms of the deal commit both the UK Government and Scottish Government to jointly invest up to £250million whilst Aberdeen City Council, Aberdeenshire Council and local partners are committed to invest up to £44million over the next decade.
The deal also encompasses a number of projects. It will support The Oil & Gas Technology Centre, a digital infrastructure fund and the proposed expansion of Aberdeen Harbour. A Bio-Therapeutic Hub for Innovation, Agri-Food and Nutrition Hub for Innovation and a Strategic Transport Appraisal are also part of the programme.
The 10-year deal will pave the way for investment in innovation, internationalisation, digital connectivity and infrastructure across the region.
It is designed to act as a catalyst for economic growth and diversification, with partners announcing that estimates suggest the Aberdeen City Region Deal's total value could be up to £826m once private sector and other investment is factored in.
These projects are collectively estimated by the deal partners to be capable of delivering annual Gross Value Added (GVA) increases of £260m across the Aberdeen City Region, £222m in Scotland and £190m in the UK.
The partners also estimate the deal has the potential to create an average of 330 new jobs per year in the region, aggregating to 3,300 new net jobs over its 10-year lifespan. It could also generate additional annual tax revenues to the Government of £113m from income tax, national insurance, VAT and oil tax revenues.