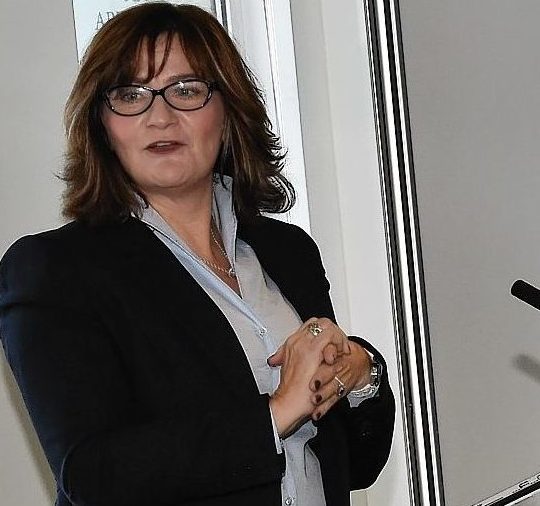 The boss of the Oil and Gas Technology Centre (OGTC) said yesterday that the north-east had a "unique opportunity" to create a new breed of "brave" leaders.
Chief executive Colette Cohen, who took over the OGTC in September, said North Sea industry had been too "cautious" when it came to developing technology.
Ms Cohen said more courageous leadership was needed to maximise economic recovery from UK waters and turn the north-east into a powerhouse for innovation.
Ms Cohen also said she would finally be able to "sleep a lot more" now that city region deal funding has started to flow through to the Aberdeen-based OGTC.
The UK and Scottish Governments announced the transfer of the first £4million of city deal funds at a signing ceremony in the Granite City yesterday.
Speaking at the ceremony, Ms Cohen said the signing was a "landmark" for the north-east and called for industry to capitalise on the opportunities the region deal presented.
Sir Ian Wood, chairman of private sector economic development body Opportunity North East (ONE), said the OGTC was part of a new and exciting phase for the region.
Sir Ian said the OGTC would make Aberdeen a "leader in mature basin technology" and anchor parts of the oil industry supply chain in the region "post the North Sea".
Ms Cohen said she was grateful for the support received from ONE and Scottish Enterprise since she took over.
But she said the OGTC needed cash to press ahead with its goal of becoming the oil and gas industry's "go to" technology centre.
Ms Cohen said she was pleased with the progress the OGTC had made in setting up a number of "solution centres" to tackle challenges facing the industry.
She has already hired people to lead the solution centres for asset integrity, well construction and small pools − and will advertise the decommissioning post in the next few weeks.
Ms Cohen, previously a senior vice-president at Centrica, said she hoped to boost the headcount at the OGTC's Queen's Road base to 30 from 12 by the start of 2017.
She said the OGTC would officially launch in February 2017.
It will strive to "create a culture of innovation, an attitude that embraces technology and leaders who are willing to think differently," Ms Cohen said.
She said the oil and gas industry had been rewarded for being "cautious and conservative" and "followers" in terms of innovation and technology for too long.
She said the sector needed a breed of leaders that are "brave, courageous and committed" to innovation.
"It takes courage to take on and recognise new ways of working. … That's what comes with being first," Ms Cohen said.
Scottish Economy Secretary Keith Brown said: "This multi-million pound (city region) deal will support Aberdeen's position as a global oil and gas hub, and it's fantastic to see the first tangible results of our investment through funding for OGTC, which will help companies develop new products and processes that can reduce costs in the sector."
Recommended for you
X

Emergency tug axeing was right, coastguard says at Transocean Winner hearing