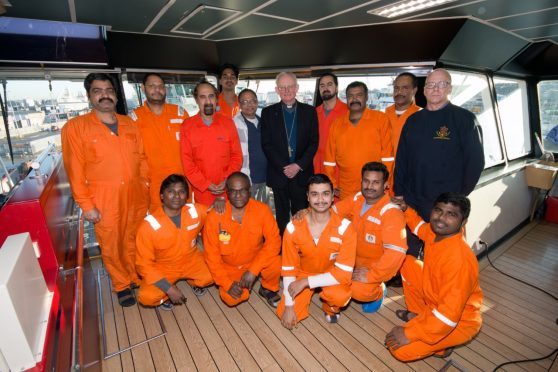 A group of Indian sailors, who have been stranded in the north-east for more than five months, have received a special blessing from the Bishop of Aberdeen.
The Malaviya Seven, a supply boat owned by Indian company GOL Offshore, was originally stopped in June after claims that staff had not received their wages for months while working in the North Sea.
The Mumbai-registered vessel, which was chartered by BP in the first half of June, was allowed to leave the harbour in August after a pay deal was settled.
But it returned to the Granite City last month and was detained again by the Maritime and Coastguard Agency.
Life aboard the ship for the Indian sailors has proved increasingly dreary with precious few home comforts at their disposal.
But in response, the Roman Catholic Bishop of Aberdeen Hugh Gilbert OSB, working with the Apostleship of the Sea charity, paid a special visit to the suffering seamen.
The Bishop said: "Our port chaplain, Doug Duncan of the Apostleship of the Sea, arranged for me to visit the vessel. It was a pleasure to meet and talk with the crew, bless the vessel and share a meal on board.
"Though the situation will remain tense until justice has been done, it was clear the efforts of the Apostleship of the Sea and others on behalf of the crew were much appreciated. Gratitude and good humour were evident."
The charity has been supporting them in various ways, including providing warm clothing with jackets and fleeces being provided by parishioners throughout the diocese.
Toiletries have also been provided by staff of the Stroke Unit in the Aberdeen Royal Infirmary (ARI).
Mr Duncan said: "It's an anxious and stressful time for the crew, but having someone from AoS they know and trust to support them makes a difference.
"The AoS have made all crew members feel part of their family during this difficult time, where they have enjoyed visits out of the port environment, and also attended the Russian Choir performance in St Peters in Aberdeen and the crowning of the statue.
"At present, the crew have enough water, fuel for heating and food on board the vessel.
"Hopefully, we are nearing a solution to this dreadful experience."
Recommended for you

'Staggering situation' as UK regulators not investigating North Sea rig incident