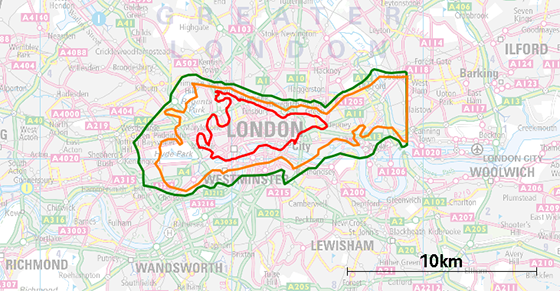 No-one has put as much effort into the basement play on the UK Atlantic Frontier as Dr Robert Trice. And he explains why to Jeremy Cresswell
Right now, only a modest distance from the west-facing side of Shetland a small UK exploration company, Hurricane, is making offshore history.
Its CEO, Dr Robert Trice, has even gone so far as to risk saying that the basement play that the company is pioneering could turn out to be the equivalent of Norway's spectacular Johan Sverdrup discovery and which is now under development.
At the heart of Hurricane's effort thus far is the multi-hundred barrelLancaster discovery located in Quad 205, not far to the southeast of the BP-operated Foinaven and Schiehallion fields and northeast of the Premier Oil-operated Solan field.
Lancaster is located on a geological feature known as the Rona Ridge, a prominent NE–SW-trending basement high which acts as a structural feature separating the Faroe–Shetland Basin from the West Shetland and the East Solan basins. It is also where the huge, successful and ongoing BP Clair field development is located.
Lancaster is just one element of a "play", and which could quite conceivably extend all the way up to Clair where, as it happens, underlying basement is present.
The company has successfully drilled both Lancaster and Whirlwind, with Lincoln in-drill. But is the imminent well spud on the Halifax prospect that could determine whether or not the very idea of hydrocarbon basement … contiguous or in bits … extending as far as Clair is preposterous.
The driving force behind this adventure is Robert Trice, a geologist by discipline with a PhD from Birbeck College, London and for whom basement geology and its hydrocarbons potential have become a passion.
He is clear that so much early and more recent West of Shetland exploration failed because everyone imagined the Rona Ridge to be an uplifted horst block, like the North Sea with sands being deposited when it was a low structure. And then the whole thing uplifted.
"But it's not," insisted Trice. "It's a buried hill and that's why it's a fantastic reservoir for basement. Basically the sands were laid on top of a relict relief and filled the valleys. The sandstone is pretty ropey across most of the top of Rona Ridge. There are however sweet spots.
"All the early wells encountered ratty sand that was non-commercial. But it demonstrated a working petroleum system. There was source, a working seal, all that was needed was a reservoir.
"Well, if you can demonstrate that fractured basement is permeable and porous, you've got your reservoir and that was the simple exploration model. And we demonstrated that with our very first basement well in 2009."
However, it is not the purpose of this article to drill down into the minutiae of Lancaster and the squadron of discoveries that Trice is assembling. An aside, he is passionate about World War Two aircraft, hence the company's and field names.
If you want to read up in depth, there is a 10,000 word paper lodged in the Lyell Collection.
We simply don't have the space to do that kind of justice to Trice's work on basement.
He started his career at the service company with Stratigraphic Services International. There the young Trice undertook geological and petrophysical evaluations of single wells, field studies and regional projects linked with clastic and carbonate exploration.
"I spent my days describing rocks using cuttings from oil wells," he told Energy.
"Through that process I taught myself how wireline logs respond to sedimentary packages for fasces analysis and environmental analysis. Then, through that, I learned about petro-physics. This was very technical work … nothing commercial whatsoever.
"After about five years I left to join Enterprise Oil as a petro-physicist. That would be around the turn of the 1980s into 90s.
"At Enterprise I was working on Arbroath … classic Tertiary sands. One of challenges the company had was how did the sandstone channels behave geometrically?
"One of the interests I had was something called dip meters, which was a way of calculate the angle of bedding non-comformities; that sort of thing.
"At that time, new generation dip meters called imaging logs were coming out and I was fascinated by it. I became Enterprise's image log specialist. So I got to see petro-physical data from around the world … anywhere Enterprise was working."
The company's portfolio included interests in Italy and Vietnam where fractured reservoirs are important. It was this that sparked Trice's thereafter abiding passion for basement.
"In Vietnam we were drilling for shallow sandstones and we were advised by the Vietnamese geologists and engineers to try the basement because they had found that the basement was oil-bearing.
"For commercial reasons, Enterprise moved away from Vietnam and because of my experience with the image log I became a team leader out in Italy working on the Val D'Agri fields and this is really where I suppose I gained the skillset needed for Hurricane.
"Val d'Agri was faulted and fractured to a high degree and it was that experience which really gave me the template for how I would like to approach basement in the UK."
This was around 1998, just as upstream oil & gas was sliding into depression … the second such event in the North Sea's history. Moreover, it was eventually to drive Enterprise into Shell's arms in a cash deal sprung in November 2002 and worth £3.5billion.
Meanwhile, Trice continued beavering away at Enterprise which moved him back to the UK in 1999.
"I worked on fractured reservoirs in Greece where Enterprise had a couple of wells drilled onshore. They weren't successful. At the same time, I was (peripherally) involved with Dooish (Irish Atlantic Frontier) and also in Norway's fractured chalk field Valhall.
"Because of my experience with that I was posted to Norway where I lived and worked or four years, primarily on Valhall and where I was seconded to BP to help build their fractured reservoir model.
"Then we got taken over by Shell (deal worth £3.5billion was announced in November 2002).
"I continued in that role; but also added a global consultancy role where I was asked to help resolve problems in Oman, Italy and on the Clair field (UKCS) from a fractured basement perspective.
"Clair's a tricky reservoir and, funnily enough, in 1999 I was asked to carry out a review of the field for Enterprise. With a colleague, I recommended that they bought more of Clair. And they did, increasing the holding by a couple of per cent.
"It was very clear that the faults were dominating flow; there were fractures in between these faults in the sands and, if you could drill a horizontal well that hit the sweet spots, you would be quids-in. That demonstrated a very effective, efficient reservoir.
"That rekindled my thoughts on basement because I knew from published well data that, underlying Clair, was basement with oil. The very first well penetrated some 200m of oil-bearing basement."
Clair was discovered in 1977, when 206/8-1A tested 25° API oil at 1,500 barrels of oil per day. Well 206/7-1 followed, producing 960bpd from fractured basement on the ridge.
Then the 206/7a-2 well was drilled. It had a 600m horizontal section that was cored and open hole tested in fractured basement of pre-Cambrian Lewisian gneiss. It flowed 660 barrels per day of 23° API crude. After acidisation, a stabilised flow rate of 2,100bpd was recorded.
Two joint appraisal wells were drilled by Clair's partners in 1991. The first, a horizontal well in fractured basement, tested at 2,100bpd after acidisation.
Some years later, having launched Hurricane, Trice was to use data from the two (early) wells to help support his first licence application on Quad 205.
Back to Shell and following a spell in Oman, Trice's time was up; it was time to move on though not without one more try to get the super-major interested in basement, but it wasn't. So he left and joined C&C Reservoirs in 2004.
"It had an incredible product called the Digital Analogues Database," he said. "I was brought into the company as a manager global fractured reservoir characterisation … how to get the best out of your data, how to solve fractured reservoir problems."
Whilst there was only a moderate amount of basement production anywhere at that time, there was plenty of fractured reservoir output.
"For crying out loud, the biggest fields in the world are fractured; but they're carbonates," said Trice. "But with the science that one uses for evaluation, it doesn't matter whether you're in limestone or sandstone or carbonates. It's the fractures that are the important thing.
"This was very interesting work and I got exposed to a lot more basement reports and understanding from this."
Trice was with them for about six months. And then fate played its card.
"I had just moved house and I was introduced by my neighbour to a local taxi driver … I live in the sticks north of Alton (Hampshire). My neighbour said that if he likes you he'll take you again but he doesn't take everybody.
"Anyway, this very chatty guy took me to the airport. He said: 'Where are you going?' I said I was headed to Houston because I have an idea about fractured reservoirs. I told him a little bit about basement (as you do) and various other things.
"He was genuinely interested and said: 'Hope you don't mind me asking but I've got a friend who's very wealthy and is interested in this sort of thing. Very interested in oil. You should give him a ring!'.
"I said thank you very much; I'll consider it. Of course I didn't take him up on this; I had my own plans.
"Anyway, the business deal in Houston didn't pan out and about a month later the taxi driver was picking me up for a flight to Germany. It was half past four in the morning. I get in the taxi and this guy turns around and says: 'How did your meeting go?'.
"I said: 'I'm sorry; what meeting are you referring to?'
"He goes: 'The one in Houston.'
"I said: 'It was a complete waste of time; the money wasn't there; the technology wasn't there; it was a nice trip that didn't go anywhere.'
"He replied: 'Well, you should ring my mate. He's a multi-millionaire. So I said: 'Go-on, give me his card.'
"So I took his card.
"That night I rang this gentleman and told him who I was.
"He replied: 'I've heard of your name; you're Dr Trice. Give me the three-minute story.' So I gave him my view on basement. And he asked: 'How old are you?'
I said: 'I'm 45.'
"So he said: 'I'll back you.'.
"I'd never previously encountered him in any way, shape or form.
"He said that we should meet and, about a month later I met the guy. And over a period of about a month and a half he asked many questions and I prepared lots of data, getting the business model together too. We shook hands and created Hurricane Limited in 2004, then Hurricane was in business from January 2005."
His name, by the way is James Hudleston. At the time he met with Trice he was chairman of Sunshine Gas a Brisbane-based company focused on coal bed methane.
And the taxi driver? Jim Barney and he was granted shares in the company as a thank you for introducing Trice and Hudleston to one another.
Though Hurricane started out being funded by high net worth individuals and London-based institutions for the first four wells that it drilled, in 2011 the decision was made to list though some shareholders at that time though the company was raising at too low a price.
So was he pushed towards the Footsie?
Trice: "Yes and no. Yes because we were being held by institutions that needed liquid funds and, with the percentages they were holding, they weren't able to put in any more money for the next well.
"Also, corporately, at that stage we had achieved a 400million barrels 2C resource (on Lancaster).
"But it didn't happened. Basically, by the time we'd won the shareholders over it was Christmas and then 2012 came. Then there was the small matter of the European banks, Greece and Portugal fiascos."
Just as well as AIM-listed oil juniors were being hammered. Why would anyone want to be on that board?
"Exactly," said Trice. "We had two years of really tough times, trying to find funding for the next well. There were two things working against us. One … a lack of rigs and very high dayrates. And also a lack of funds. You can't get money without a rig and you can't get a rig without money. So you're between a rock and a hard place.
"But in 2013, we met Kerogen Capital. That was the game-changer because they were the cornerstone of our getting our listing on AIM and securing funding for our 2014 (first) horizontal well (at Lancaster).
"That was really designed to demonstrate commercial flow from basement whereas previous wells were designed to find information. It was a success and it was the game-changer."
This year, Hurricane was able to raise more money (two rounds £52million in the Spring and £70million a few weeks ago) and then drill the second horizontal well on Lancaster with a view to becoming a producer. It was reported as a major success.
The funding enabled Trice and his team to go and haggle with Transocean to secure the Spitsbergen rig for a further two wells and, on November 8, the first probe on Lincoln was
spudded following a rig move of just 9,000m.
Nominally a 60-day well, rumours were circulating as Energy went to press that an early result from Lincoln was on the cards, though we understand drilling was still ongoing.
This acreage was originally drilled by Arco; the company touched basement, encountered shows of hydrocarbons but pulled the plug. It drilled through the back of the structure through Jurassic sands and found some oil. The reservoir was rubbish.
Trice: "Same as Shell, same as BP. This is where I despair and fail to understand how some people's brains work. Shell drilled that in 1974 and cored a Mezozoic clastic section and then cored the basement.
"But the rules then were that you cored basement to prove that there was nothing left. And then you moved on.
"This particular well had encountered oil. It was tested by demonstrated non-commercial flow rates. So it was P&A'd. Similarly with BP on our Whirlwind discovery."
Up next are two things … an 18-month early production run on Lancaster based on the two horizontal wells drilled and an FPSO; and a further well.
The FPSO-based trial has already been extensively covered in the trade media and Hurricane has secured the Aoka Mizu for the job. A field development plan is to be filed in Q1 next year with a view to first semi-commercial production in 2019. That will not only determine the future of Hurricane but also pump much needed, valuable revenues into the company's coffers.
Finally, the next well. Just days after Trice met with Energy's editor, it was announced that the company had secured the critical Halifax prospect licence (P2306), issued by the Oil & Gas Authority out-of-round.
The licence is contiguous to, and extends north east from, Hurricane's existing Lancaster acreage.
A previous well (205/23-2) drilled on the Halifax structure encountered oil and gas shows in sandstones immediately above the basement. In addition, Hurricane's analysis of basement cuttings from the 205/23-2 well indicates the presence of oil thus mitigating the oil charge risk to Halifax.
Not only that, seismic interpretation indicated a clearly-defined fault network within the fractured basement of the Halifax prospect, analogous to that seen in Lancaster.
And this is where the final well of the current series will be drilled. The spud location has been selected and site-surveyed.
Just suppose Halifax does turn out to be a continuation of Lancaster and let us suppose that the production trial delivers to prognosis then Trice's Johan Sverdrup claim might not seem so over the top after all.
And if that happens, it could rekindle massive interest in the UK Atlantic Frontier, indeed the wider UKCS where other basement prospcts are known to exist.
Trice hopes so and seems not bothered if Hurricane gets eaten in the process. It is, after all, vulnerable. But, it holds 100% of its licences and so has farm-down scope too to bargain with.
Recommended for you

Serica completes shutdown campaigns on Bruce and Triton hubs