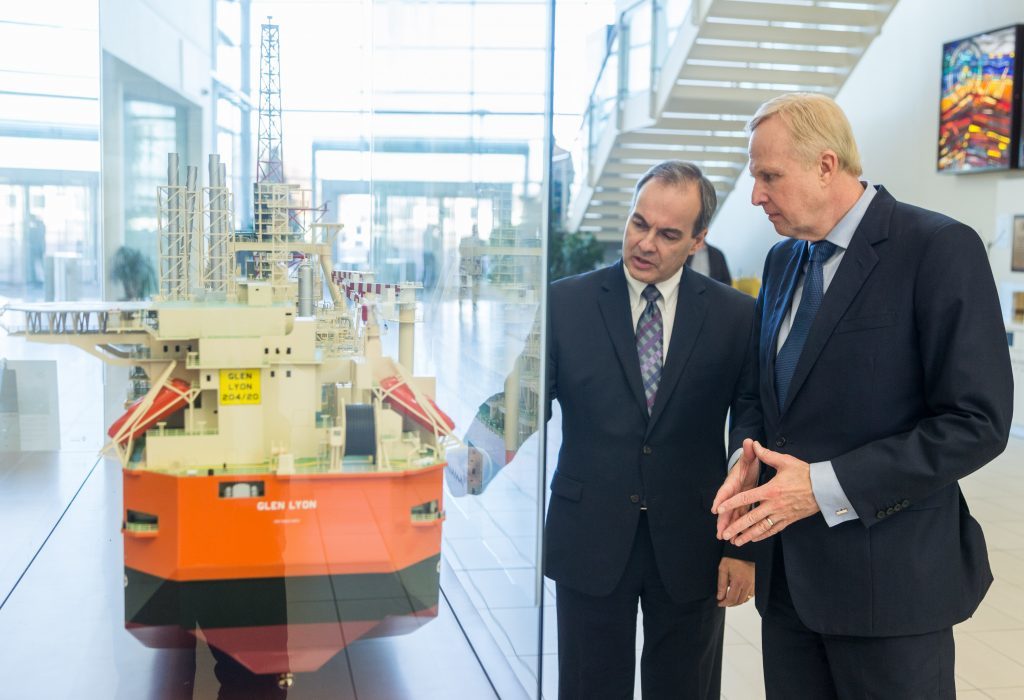 BP's top boss said the oil major would double its North Sea production as he hailed the region as one of the company's "crown jewels".
Bob Dudley sat down exclusively with Energy Voice in his first trip to Aberdeen since 2011.
The chief executive said: "The North Sea is not only our backyard, it is one of four crown jewels."
The oil major will drill five exploration wells next year and 50 new development wells over the next three. Its production is also set to double by 2020 to 200,000 barrels of oil a day. The increase is in comparison to 2015's output figures.
The oil boss said: "There's some hope on the exploration programme, because any one of those wells or prospects could lead to yet another hub of development.
"You will see portfolio changes for us in the North Sea, but you may see us invest in other projects as people approach us about joining them. So I think there's a mix, but we should double our production by 2020 from where it was in 2015.
"We should be over 200,000 barrels a day in 2020 and by then I'm hopeful our exploration programme will lead to more things to do."
The operator is expecting first oil from two of its major developments, Quad 204 early next year and Clair Ridge in 2018. It currently has two billion barrels of resource potential in the UKCS, split evenly between its planned production, discovered, and future prospects.
BP's production figures have steadily declined since its peak in 2000. However, 2015 marked the start of its five-year turnaround. Production will climb to 209,000 in 2020.
The global leader also dispelled the "myth" that North Sea industry was over, insisting BP would be pumping oil until 2050.
"The myth that the North Sea is finished is absolutely that. It's a wrong myth," he said.
"There's a demonstration of new activity and new big fields coming on stream. It's not just BP fields. There are others as well, so there's real economic activity that will support thousands of jobs. And there is an active exploration programme that could create something really new and exciting. I think it will be 'good' exciting – not necessarily the silver bullet.
"The reality is that the North Sea is a mature basin so some of the structural changes will stay.
"I don't think we'll go back to the way it was at $100 oil. I just can't see that. Or the early days of the North Sea. But it's going to be around for a long time and be a vibrant place and part of the global oil and gas industry – most certainly.
"And I don't know that people who work in the industry in the North Sea realise how good they are and how much they know."
He urged service firms to look further afield, including Mexico, to help them lay the bedrock of the industry there.
BP most recently acquired interest in two North Sea exploration prospects, Jock Scott and Craster.
The firm bought stakes a 25% interest in the Statoil-operated Jock prospect and a 40% interest in the north and a 30% interest in the south of the Nexen-operated licence P2062, which includes the Craster prospect.The North Sea producer said it was part of its strategy to remain a "North Sea producer, investor and employer for decades to come".
The buy-in was followed by the confirmation that it had started drilling a prospect in the Southern North Sea. The oil major said it was testing the potential of a deep carboniferous age horizon, located several hundred metres beneath the mature reservoirs produced by the Ravenspurn ST2 platform.
Earlier this year, it doubled its stake in the North Sea's Culzean development.
Over the last five years it has invested $10billion in the North Sea. Last year, it invested a $1billion into its aging ETAP field, securing its future through 2030.
He added: "The North Sea is on a glide path. That's the physics of it and that happens all over the world. But what I think you'll see as it comes down are projects coming along that will create bumps that will extend the life of it well past 2050. It's hard to see beyond 2050, but I think that's a long enough time. It's longer than anyone thought, including the people who first built the facilities."
Mr Dudley first came to Aberdeen in the 80s as a production engineer.
"We were here in '84 to '87 and one of the things that is interesting to me are the similarities in how the industry is now to how it was then," he said.
"When we arrived oil had been $40 and then it was $26 and suddenly it went to $9. And with all that stress there are some big similarities now to what we felt then.
"But for me there's a lot of enthusiasm for BP in the North Sea particularly in 2017. We have a lot of things happening. It's just been complicated with the price, so for me being able to come up and talk to the team and learn more first-hand what's happening with Clair, Quad 204, the exploration plans and all of the things that are happening with contractors is really important and a little overdue.
"One thing that is the same as when I came here as a production engineer are these big facilities in the North Sea. They cradle the offshore oil and gas industry. The things that were done here in the 80s were ground-breaking and the things that are still happening today are ground-breaking, so for me I've just always been excited by the North Sea.
"These big projects will keep oil flowing in the North Sea past 2050 for sure. And while the industry itself is going through a tough time and the North Sea is in a decline and is a mature basin – there is still a lot to do to keep it alive – BP will be one of if not the leading operator then."
Find out why he thinks oil not renewables will always be the energy answer here. Find out what record low North Sea operating cost BP is targeting here. And tomorrow find out what helped the oil boss regain his nerve.
Recommended for you

Licence to Drill: North Sea riggers take on James Bond TV show