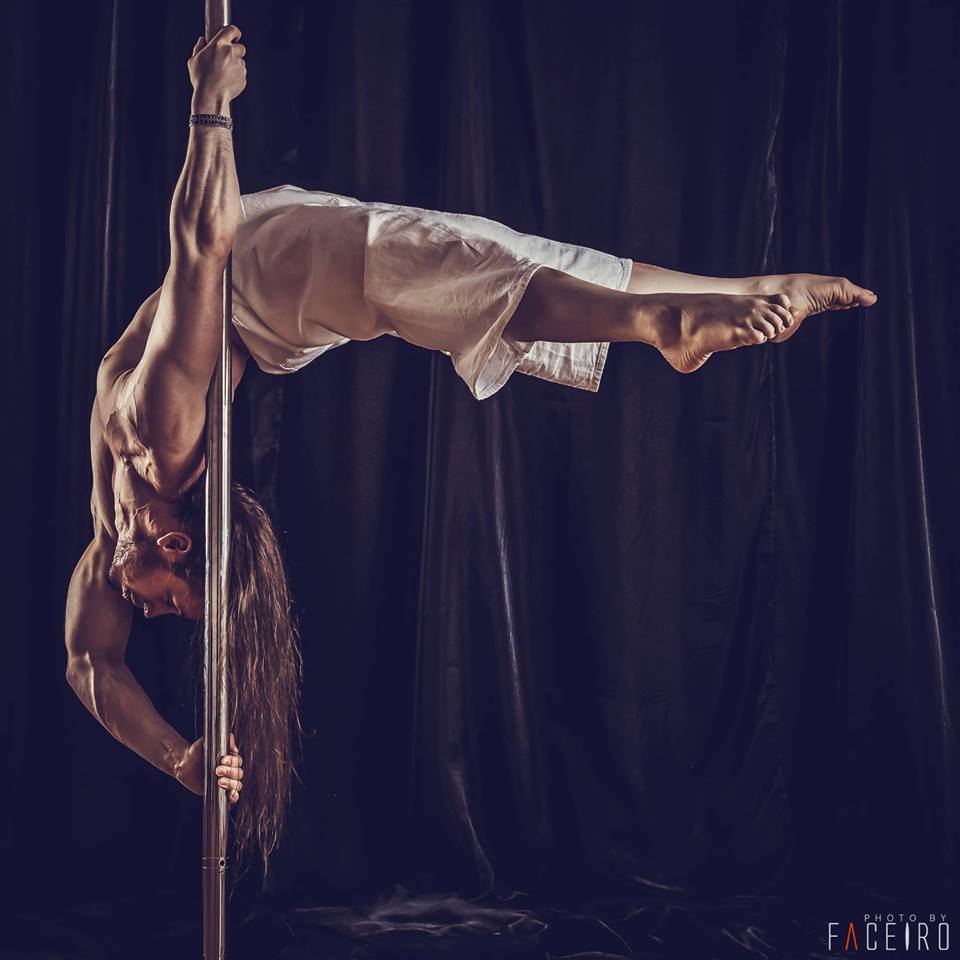 An Aberdeen man who was made redundant from his decade long career in the oil and gas industry has spun his life back around by becoming a champion pole dancer.
Theo Robertson, 27, had been employed as a fluid analyst specialist with Schlumberger before he became another statistic of the North Sea crisis earlier this year when the firm was forced to cut its staff numbers.
But instead of trying to find a way back into the struggling industry, Mr Robertson has taken his career into a new pole position.
The dedicated Mr Robertson is now a director at the pole dancing and circus arts studio Inverted in Aberdeen, studying contemporary dance performance at university and has already won a number of national competitions.
Mr Robertson said: "I got into it years ago, a girl I was seeing had been badgering me to give it a go, but for the longest time I gave her the typical guy response of dismissing it as just for women, saying that men shouldn't be doing stuff like that, and so on.
"But I found out that one or my friends had actually been doing it for a few months, so I ended up going along with him, he showed me the basics and I ended up absolutely loving it.
"There's still obviously the exotic side to pole dancing, but I had no idea about the gymnastic side of it, and being exposed to that completely changed my opinion of it all.
"Gymnastic pole requires so much strength, concentration, flexibility and dedication.
"Most of the girls in my studio dance the exotic style, and I'm not going to lie, I've tried it out as well for a laugh, but I'm not sexy enough.
"I've done pretty well so far competitively, I won the Edinburgh Pole Competition and Mr Pole Scotland two years ago, Mr Pole Scotland Pro this year, and I came second in their UK pro finals this year as well.
"The pole dancing community is amazingly supportive, everyone is really humble all of the time and everyone's dedicated to pushing each other forwards."
After his own experience being made redundant, Mr Robertson decided that the studio Inverted on James Street, where he is a director, should support people like him, and together with the other directors created a 30% discount for anyone who lost their job due to the oil and gas industry downturn.
He added: "I never realised how much redundancy would have affected me until it actually happened.
"It's also affected a couple of our instructors and some of the students.
"I think the turning point for me was one of our advanced students got made redundant, and I hated the concept of her not being able to train.
"So I put the idea forward, and the other directors absolutely loved it. And now that girl is still going strong, she hasn't missed any months of training."
Mr Robertson said that anybody who might want to try pole dancing should look past the stereotypes and give it a try, arguing that it has positive benefits both physically and mentally.
He said: "Ignore the stigma. It's been getting a lot better in recent years since it's become a much more fitness-orientated sport, so ignore the stigma, give it a go and you'll be surprised at how fun it is.
"It's a great way to build up muscle, tone yourself, sort your body out and have fun while doing it – much more fun that endless reps at the gym.
"It's also really good for your head. If you've got a lot of stuff going on, you can go in, dance, and forget your troubles for at least a little while – you always feel so much better after a session."
After placing second in the UK, Mr Robertson has qualified and is currently in training for the World Pole Dance finals.
To find out more about his studio, visit www.invertedaberdeen.com
This series is in association with Elevator – Scotland's social enterprise dedicated to supporting entrepreneurship, enterprise and employability – works across Grampian and Tayside to help facilitate the start-up and growth of new and existing businesses.
Delivering Business Gateway, Elevator currently engages with 2,500 start-up businesses and assists around 1,000 organisations to grow annually with advice and support. It aims to help an additional 200 start-ups a year through initiatives such as its hugely successful Accelerator Programme, which aims to fast-track businesses to the next level. Find out more here.
Recommended for you

Oil and gas veteran remembered as 'one of life's good guys'