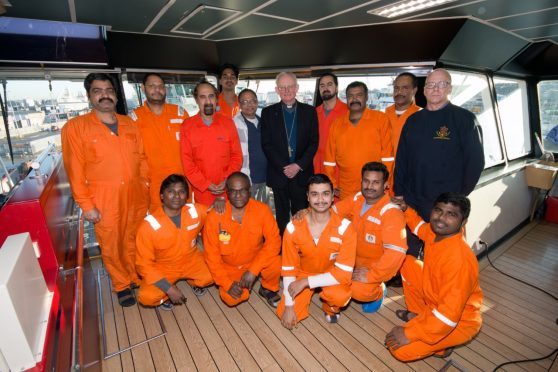 A team of sailors stranded in a north-east port have been helped through the festive season by a group of churchgoers.
The MV Malaviya Seven, which is owned by Indian company GOL Offshore, was initially held up in Aberdeen Harbour in June after claims its crew of 13 had not received their wages for months while working in the North Sea.
The Mumbai-registered vessel and its Indian staff, which was chartered by BP in the first half of June, was allowed to leave the harbour in August after a pay deal was settled.
But it returned to the Granite City in October and was detained again by the Maritime and Coastguard Agency.
Doug Duncan – port chaplain for the Catholic charity, Apostleship of the Sea in Aberdeen, Fraserburgh and Peterhead – has been supporting the crew throughout along with locals hailing from the Goa region of India.
The sailors are from both Hindu and Christian backgrounds.
On Christmas Day they were treated to a dinner and dance complete with home-cooked meals, music and games with help from the St Joseph's Catholic Church Goan community.
Several crew members also attended Christmas carolling and mass on Christmas Eve at St. Columba's Church in Bridge of Don.
Mr Duncan also took them to a mass on Boxing Day at St Mary's Cathedral in the city.
Last night Mr Duncan – who has become close to the crew in recent months – said: "It has been very, very busy but at least they have the chance to get out and away from the vessel and just relax a little.
"Although there was still some members back on the vessel – some of them had to remain on watch – it has been good for them. They enjoy meeting new people, and speaking to people.
"It is a bit of boredom on there 24 hours a day, seven days a week with the same guys. It is good to just get them thinking about other things.
"We just want to see the end of this. It has been going on now for a long time. I think the guys are the best they can be at the moment, but their families back home are struggling.
"I am treated as a friend by them now, I feel part of their family and they are part of our family in Aberdeen.
"People have took to them wonderfully well.
"It is their families now we have to think of, some of them haven't seen them in eight-and-a-half months. That is the next thing, trying to solve this problem. It is still limbo."
New Years celebrations with the crew are also planned for January 2.​