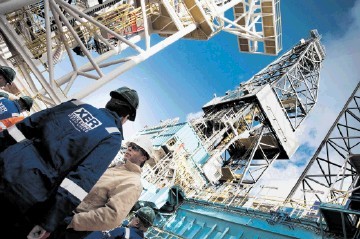 The number of UK oil and gas companies going insolvent has reached an all-time high following the slump in prices, a study shows.
A total of 16 businesses became insolvent last year, up from two the year before, and none in 2012, said accountancy firm Moore Stephens.
Despite a recent increase, the slump in the price of oil from $120 to just under $50 a barrel for most of the past year has continued to hit businesses, said the report.
Oil and gas sector insolvencies have increased around the world since the fall in prices but smaller North Sea operators faced particular stresses, the research found.
Jeremy Willmont, of Moore Stephens, said: "The collapse of the price of oil has stretched many UK independents to breaking point.
"The last 15 years has seen a large increase in the number of UK oil and gas independents exploring and producing everywhere from Iraq to the Falkland Islands.
"Unless there is a consistent upward trend in the oil price, conditions will remain tough for many of those and insolvencies may continue."
The report added that North Sea oil producers faced further "headwinds" from the cost of decommissioning offshore rigs.
Iona Energy went bust early last year. The mid-cap appointed FTI Consulting as its administrator, after several would-be suitors pulled-out of a potential buy-out.
Bridge Energy was later given more time to scrap together the funds needed to take over the struggling firm, however, Bridge later dropped its bid after one of its main backers failed to throw in its support.
In an update to shareholders in November, it was revealed a key backer decided Iona's Orlando development north-east of Shetland was not worth investing in. Atlantic Petroleum later took over Iona's North Sea Orlando and Kells licences.
In May, Enterprise Engineering Services (EESL) was forced to call in administrators. The company, which started trading in 1966, had 115 employees on its books at the time. The firm blamed a low oil price for the move and said "significant cash flow problems" had left directors with "no option" but to seek the appointment of administrators. Wood Group later stepped in and acquired EESL's Aberdeen based fabrication and manufacturing business. The move saved 10 jobs.
May also saw oilfield services Harkand Group go bust with the loss of 171 jobs, including 98 in Aberdeen. The company was plunged into administration after it defaulted on the payment of its senior secured bond issue and interest, due to insufficient liquidity.
Days later a management buyout team agreed a deal with administrators Deloitte to acquire Harkand's North American and African businesses.
In June, SeaEnergy was placed into administration after cash flow problems hit in 2015. On the same day, James Fisher confirmed its takeover of R2S Visual Asset Management, R2S Forensic as well as digital product provider Max and Co from Aberdeen's SeaEnergy.
In July, PresureFab Limited – specialist rig topside company – appointed KPMG as administrators after the firm was "significantly impacted" by the oil and gas downturn.
In August, IMES Limited went under. Seanamic Group acquired the firm's trading business and certain assets, saving 49 positions.
In October, shareholders had their stock wiped-out after bondholders rejected a restructuring plan and moved to liquidate Xcite Energy.
The board of Xcite, led by chief executive Rupert Cole, had said it had negotiated a deal with the lenders whereby they would exchange 98.5% of the company's shares for 100% of the value of outstanding bonds. It had previously said that the bondholders had "unanimously" backed the deal.
However, the company was later forced to issue a statement saying that the bondholders were "not satisfied that the transaction is capable of being implemented in a manner acceptable to them".
Read 10 firms that fell victim to 2016 here.
Recommended for you

Oil and gas companies lodge over 100 bids in North Sea licensing round