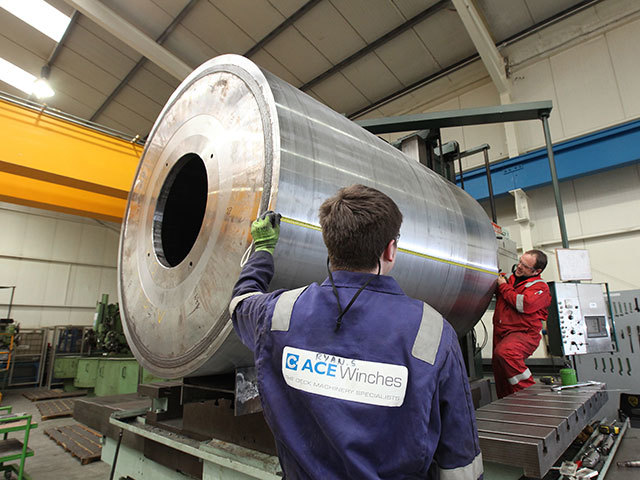 Ace Winches has warned up to 30 staff they are at risk of redundancy, including six apprentices.
The deck machinery maker based near Turriff said the move was part of a further programme of cost reduction in the wake of the "severity" of the oil and gas downturn, particularly in the North Sea.
The new round of job cuts will bring the firm's combined workforce based at Towie Barclay Works and in Norway down to around 200. When it embarked on a programme of up to 60 job cuts in 2015, its workforce numbered around 313.
In a statement the company insisted it would make "every effort" to support staff affected by the cuts and would try to look for new roles for the apprentices affected.
The company said it "maintains its commitment" to its apprenticeship and trainee programmes, adding that it has retained 15 apprentices after a further six trainees had been offered permanent roles in the business.
The company added: "Over the last 12 years Ace Winches has recruited directly from schools and colleges and trained over 100 apprentices and trainees in specialist trades."
The company said: "Ace Winches, like many others in the oilfield services sector, has been proactively managing its business during the downturn within the oil and gas industry.
"As a result of the severity of the continued oil and gas downturn which has seen oil and gas operators significantly reducing investments, the Ace organisation has had to introduce further cost savings to ensure long term business delivery sustainability.
"It is therefore with sincere regret that the company has advised its employees of potential headcount reductions at its UK facilities in Turriff, Aberdeenshire.
"The company is currently in consultation with its staff and making every effort to mitigate any potential impact on its employees, as a result of this process it is anticipated that about 30 positions will be impacted.
"As a result of the steady decline in the number of subsea projects, specifically within the North Sea, a small number of offshore personnel will be affected.
"Regrettably, six are likely to include modern apprentices in craft trades. The company will endeavour to support these apprentices in seeking ways to find alternative employment and/or training programmes in similar trades across the local region.
"The group will continue to employ approximately 200 skilled professionals including our Norwegian operations which are not impacted as a result of this consultation."
The firm added that it was "focusing its attention and managing change to secure future international business from the oil and gas sector along with other industries".
Recommended for you

Ace Winches unveils plans to open new base in Houston