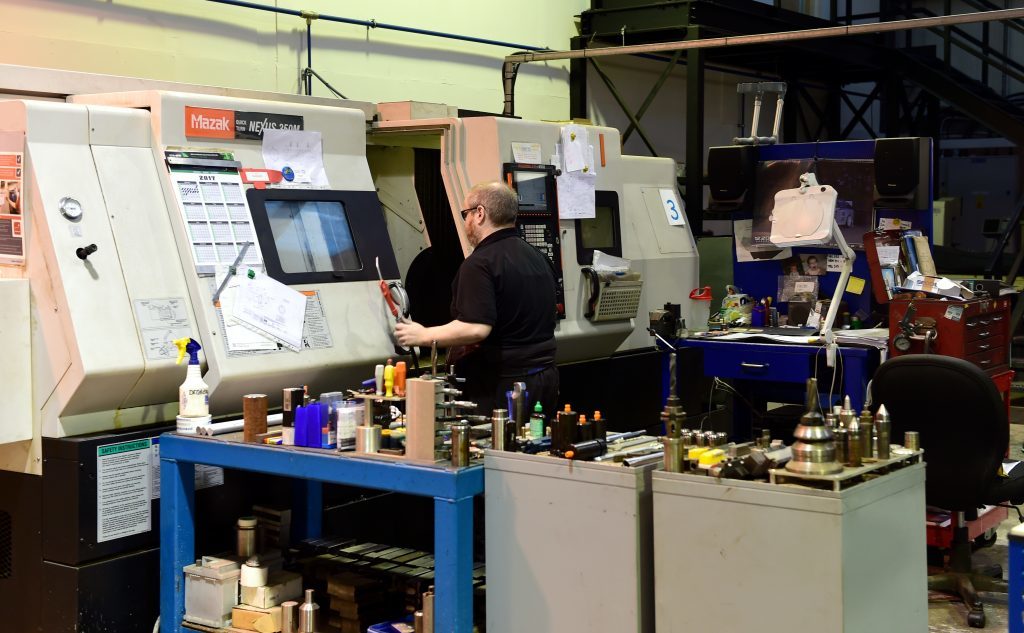 Bosses at a struggling small engineering firm have warned a failure to halt "daylight robbery" business rate rises will cost people their jobs.
Bev Robertson said she was "flabbergasted" to be told she must pay an extra £15,519 from April – an increase of 57% – despite the oil crisis squeeze.
She has joined a chorus of entrepreneurs demanding the Scottish Government take action to soften the blow in the north-east.
Business leaders across all sectors are uniting to heap pressure on Finance Secretary Derek Mackay to phase-in the changes.
Bar owners say the hospitality industry will also be devastated by the increased tariffs – which are based on valuations carried out when the region's economy was booming.
Finance director Mrs Robertson and her business partners have built up Precision Oil Tools in Kintore over 13 years and now have a staff of 12.
They made a loss for the first time last year because of the dramatic slump in the oil price and the rate shock has left them desperate for help.
"We have cut back and cut back and cut back already. The guys took a cut in hours last year to avoid redundancies," she said.
"We have spent everything we've built up over the last 12 or 13 years just keeping the lights on.
"We need large premises because we use big machinery but we do not make massive profits, we've not got thousands sitting in the bank.
"Where would they like me to find that kind of money?"
In a letter to local politicians, she said: "A 63% increase in rateable value for a property which is not on the public sewer or drainage system, has no public lighting, no footpaths, access roads which we must clear of snow and grit ourselves, is in my opinion nothing short of daylight robbery.
"Unfortunately we have already cut our cloth so many times I believe that the only thing left for us to do will be to cut our staff numbers."
She added: "It's not something I want to do but if things do not pick up we can't take money out of thin air."
A coalition of business and civic leaders is being formed to urge Mr Mackay to introduce the sort of transitional relief enjoyed by firms in England.
The Scottish Government has also been warned the fragile hospitality sector will be plunged into crisis if it does nothing to halt huge business rate rises.
Leading entrepreneurs of Aberdeen's night-time economy united to predict a recent run of closures will only accelerate if ministers fail to act.
They joined a chorus of employers demanding action by Finance Secretary Derek Mackay to soften the blow by phasing in the change.
The north-east faces exceptional hikes because bills from April are based on a 2015 revaluation – before the plunging oil price pushed many firms to the brink. Several have said they may be forced to lay off staff if the rise goes ahead.
Ben Iravani will see rates payable on Ninety-Nine Bar and Kitchen treble to around £30,000 a year – and double at his other bar Orchid to £20,000.
"We are not going to close, but there are others that will because it will be the straw that breaks the camel's back," he said. "From an entrepreneurial standpoint it is so demoralising. You risk a lot and you hope to see a reward come back at some point. If that reward just keeps getting taxed and taxed and taxed it's not worth it."
Mr Iravani said he "would certainly have reconsidered massively" about investing in the venues several years ago had the rates been that high.
It "would definitely help" if the government copied the system of reliefs used to cushion firms in England from sudden rises, he added.
Alan Henderson is concerned about the impact both as an employer and chairman of the Aberdeen Inspired business improvement scheme.
The bill for The Stag, the Crown Street pub he recently refurbished, will soar by a massive 259% – from £10,842 to £38,911.
"It's a horrendous shock. The hospitality sector is going to be hit the most," Mr Henderson said.
"We have been hit really, really hard but we will be OK. I think there will be lots that are not.
"It does mean we are less likely to give staff big wage increases."
He welcomed the concerted push to press the government.
"What's quite clear is that the whole political and business community for once in my life seems to be coming together."
Their fears were echoed by Paul Clarkson of PD Devco, which operates 11 venues across the city including Soul bar and casino.
He is still calculating the full scale of the impact on their operations but one bar will see rates rise by more than a third.
"This is going to have a considerable impact. Hopefully it's not something that will cause lasting damage to the business.
"A lot of places will go to the wall."
Ministers have so far given no indication they are willing to protect firms from the sharpest rises – despite the north-east facing the second highest increases anywhere in the UK.
Recommended for you

The Energy Capital MP: New SNP Commons leader Flynn's North Sea record