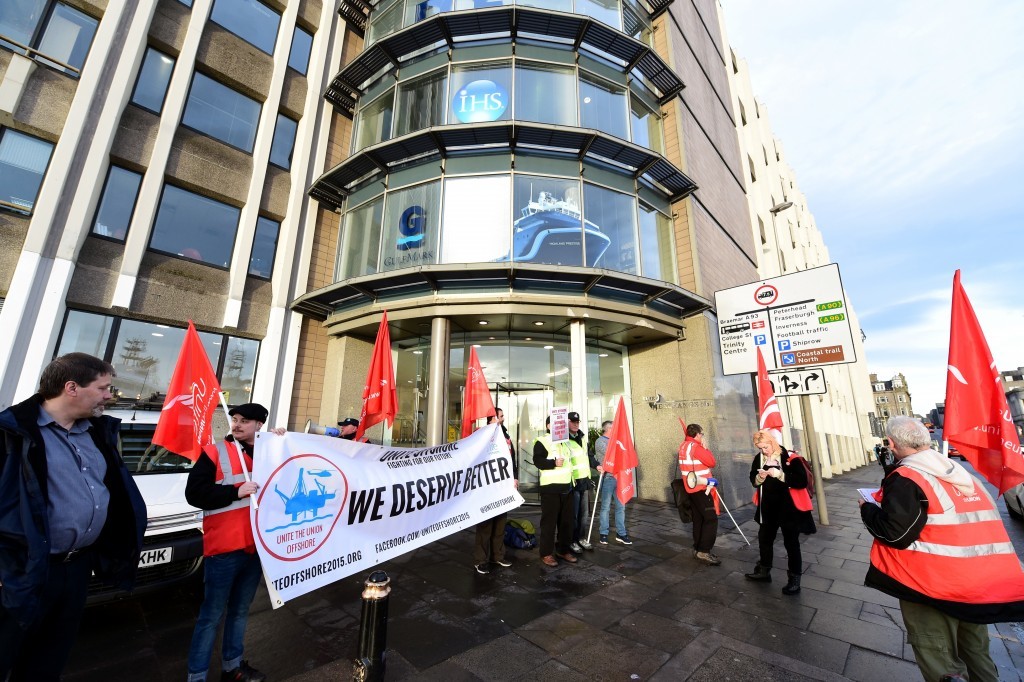 Offshore caterers will vote on whether to accept a pay freeze from North Sea employers next week.
Trade unions accused the Catering Offshore Trade Association (Cota) of making the most "savage attack" on terms and conditions they had ever seen.
Unite and RMT were locked in a dispute with Cota throughout much of 2015 after employers scrapped a pre-agreed a pay rise.
Industrial action ballots were held, but no strikes materialised as workers accepted an improved offer in December 2015.
But one year on, the sides have locked horns again.
The unions said Cota's initial contract offer for 2016/17 ignored their appeals for a "reasonable pay rise".
The offer would also have cut travel allowances and redundancy pay and removed reimbursements for crew change delays.
It would also have changed terms relating to sick pay and accommodation expenses.
But the unions said that Cota revised its opening offer following "lengthy negotiations".
Cota represents six companies catering firms, including Aramark, Entier, ESS, Foss & Esg, Sodexo and Trinity International Services.
If accepted, the latest contract offer would freeze workers' pay at existing levels.
However, Cota has dropped the changes it wanted to make to other areas of the agreement, including sick pay.
It has also agreed to pay workers for out-of-hours emergency offshore training.
Employees will vote on the offer next week via a telephone ballot.
The unions said "never before during any Cota negotiations" had they been forced to "defend such a savage attack" on workers' terms and conditions.
Cota has been contacted for comment.
Unite and RMT said they would not advise members whether to accept or reject the contract.
They said: "The committee has given full consideration as to whether to provide a recommendation to this pay offer but it was felt to gain the clearest views of the membership that there would be no recommendation given and that the members would need to take their own view on whether to accept or reject the offer."
If the terms are rejected, Cota will have to decide whether to revise the offer or risk unions holding another strike action ballot.
Recommended for you

Offshore caterers accept improved 10% pay offer