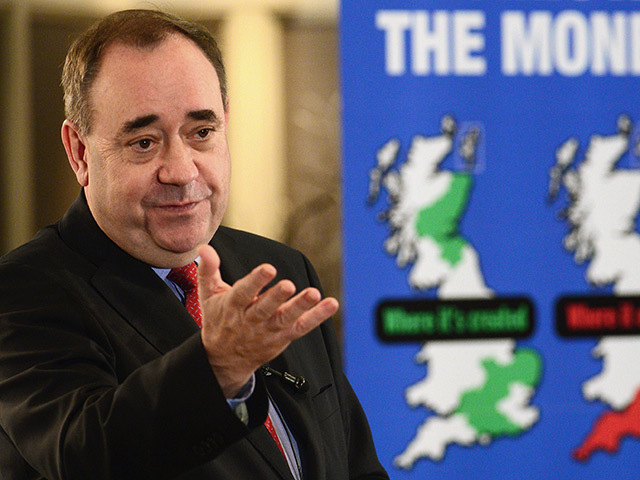 Former Scottish First Minister Alex Salmond has said Scotland is a "viable independent country outside of the UK".
The political leader insisted $60 gave the country a strong economic standing.
Speaking to Bloomberg TV, he said: "Scotland is a viable independent country outside the UK.
"At $60 per barrel of oil Scotland will be the fifteenth country in the world per wealth per head. That means that we would be better off that another 185 countries, one place ahead of the UK as a whole.
"Having lost about 100,000 oil jobs across Scotland, our unemployment rate is currently at around 4.7% compared to UK's 4.6%. This demonstrates a substantial degree of resilience across the Scottish economy.
"It's been hard, but the oil and gas industry is recovering, it can be nothing more certain in oil than ups and downs. Investments have already restarted and there are a lot of hydrocarbons left in Scotland."
Scotland's North Sea is currently enduring its second year of industry downturn.
Oil prices dropped from an oil time high of $100 plus to below $30.
OPEC was forced to make a landmark production curb, however, the oil price has yet to recover to the $60 mark.
North Sea native BP said it was planning its future business around $55 oil.
The downturn has seen more than 100,000 jobs go in the sector.
Wood Group is the latest firm to say more job losses are inevitable after its £2.2bn takeover of Amec Foster Wheeler.
In a recent research paper, leading industry expert Professor Alex Kemp said the North Sea oil recovery would not be down to price increases alone. "Technical progress has a key role to play in facilitating the development of small pools in particular", according to the sector expert.
Salmond added: "We will also have a friendly reception across Europe, as Scotland has many EU friends, while the UK has virtually none left."
First Minister Nicola Sturgeon's bombshell announcement yesterday that she intended to hold a second independence referendum overshadowed the House of Lords vote which finally cleared the way for the Prime Minister to start the formal Brexit process.
The move drew a furious response from Mrs May who accused the SNP of "playing politics with the future of our country" with a vote that would only create "more uncertainty and division".
Her comments were seen as an indication that she will not allow the referendum to go ahead until after the Brexit process is complete – which is expected to be in the spring of 2019.