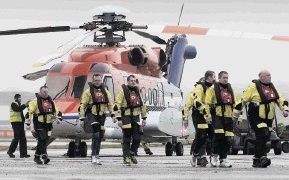 Offshore workers could take "sustained" North Sea strike action this summer after a pay deal was rejected by trade unions.
More than 80% of Unite union members voted against accepting the latest terms and conditions put on the negotiating table by the Offshore Contractors Association (OCA).
Similarly 61 per cent of GMB members voted to reject the OCA's deal.
The organisation represents a number of major North Sea oil and gas employers including Petrofac, Wood Group PSN and Stork.
The OCA and the unions have been in a long running dispute over a wage increase, improved sick pay and paid travel time to onshore bases.
Back in December Unite and the GMB unions rejected an initial pay offer from the OCA.
Unite regional officer Tommy Campbell said the results of the latest ballot gave them a "definitive mandate" for industrial action.
And he said oil and gas workers were sickened after watching many companies lay off tens of thousands of employees since the downturn but seeing no increase to their basic pay in "a number of years".
He said: "Our members have seen the sacrifices that have been made in the terms of the many work colleagues who have lost their jobs and others who have seen significant pay cuts.
"The message from them now is loud and clear: 'enough is enough'.
"Future action cannot be ruled out. We said in the ballot paper that if this second offer was rejected then it would likely end up in sustained industrial action over the summer months.
"We will now discuss matters with our shop stewards and get feedback from members."
In the consultative ballot, 81 per cent of Unite members voted to reject the latest deal put forward by their employers, represented by the OCA.
The latest deal outlined a 2% pay increase, including sick pay, stretching from January 2017 to the end of March 2018.
A further increase running from April 2018 to March 2019 was linked to inflation as measured by the Consumer Price Index published at the start of the year.
The GMB also voted to reject the offer as the ballot closed at noon yesterday (MON).
Dave Hulse, GMB National Officer said: "This result comes as little surprise given the attacks our members have faced on their pay, terms and conditions in recent years. The offer the employers have made is just not up to scratch."
"Our members believe that over recent times they have been treated with contempt – enough is enough."
Paul Atkinson, chief executive of the Offshore Contractors Association has pledged to try and get the unions back round the table for further talks.
He said: "We are extremely disappointed that members of the trade unions who took part in the consultative ballot have rejected our pay offer.
"Our priority is to find ways of avoiding industrial action. We will continue to maintain an on-going dialogue with union officials in an attempt to bring this to a resolution."
Recommended for you

Pictures emerge of offshore worker strikes in North Sea