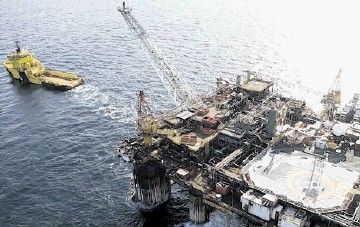 North Sea operator Ithaca Energy has hailed a soaring share price as a reflection of progress achieved since the start of 2016.
Announcing substantially narrower annual losses yesterday, Ithaca chief executive Les Thomas said last month's first oil from the Stella field helped the turnaround at the Aberdeen-based company.
London and Calgary-listed Ithaca posted pre-tax losses of £66.8million for 2016, compared with losses of £260.8million the year before. But revenue fell to £114.8million last year, from £165.3million previously.
At the start of 2016, Ithaca's shares were each worth 28p. While there was only a slight increase in their value yesterday, they are now worth 115.75p.
Mr Thomas said: "Our 2016 financial results reflect a year of good progress for the company, culminating in first oil from the Stella field in February 2017. This progress has been reflected in the near fourfold increase in our share price since the start of last year.
"Stella first oil was an important milestone for the company and production is forecast to ramp-up upon completion of ongoing dynamic commissioning of the gas processing facilities.
"Having reached this important milestone and after weighing up the potential risks and opportunities that lie ahead, the board considers the takeover offer tabled by Delek as providing full value to shareholders and wholeheartedly recommends its acceptance."
Ithaca is urging investors to accept a takeover offer for all the remaining stock not already owned by its largest shareholder, Israel's Delek Group.
Shareholders have until 10pm (UK time) on April 20 to accept the £1.19 per share offer. Delek holds 19.7% of the currently issued and outstanding common shares.
Ithaca – now focused on production start-up from the Harrier field early next year – said it had cut its production cost per barrel of oil equivalent (boe) to $23, from $31 in 2015. Daily output last year averaged 9,310 boe, better than the forecasted 9,000.
Start-up from Stella, in the Central Graben area of the UK North Sea, has to date delivered about 1,700 barrels of oil per day net to operator Ithaca.
Holding a 54.66% stake, Ithaca shares Greater Stella Area ownership with Dyas (25.34%) and energy service firm Petrofac (20%).
Ithaca said its independently evaluated proved and probable reserves had increased to 76million boe, thanks to the acquisitions of the Vorlich and Austen licences during 2016.
Recommended for you

West of Shetland: The projects in the UK's oil and gas hotspot